Happy New Year – Let the #Cybils Reading Begin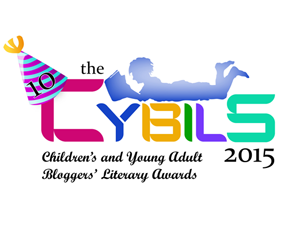 Is there really any better way to finish one year and start another? I think not!
Last night, just before midnight, I finished The Dragons of Ordinary Farm [review coming soon.] That means today I need something new to read. Are you in the same boat?
Let me suggest you peruse the 2015 Cybils Finalists lists. With 89 books across 11 categories / genres, there are plenty of highly-recommended books to choose for your first reads of 2016.
Want to take it the extra step? Pick your favorite category and read along with the Round 2 judges.  Yes, your library is closed today, but their online catalog isn't! Visit worldcat.org to find and reserve the books you want to read.
2015 Cybils Finalists (by Category)
To help get you started, we have listed each of the Cybils categories and the number of finalists. Click the link to read a blurb about each of the books that the Round 2 Judges will be reading over the next 6 weeks.
Worth noting: Several nonfiction titles are on this year's Cybils finalists list for developing readers. Yeah!
On a personal note, it was fun to see some of my nominees are among this year's Cybils finalists. [I pasted them in from the Cybils blog … which I encourage you to visit.]
Easy Reader / Early Chapter Book

West Meadows Detectives: The Case of the Snack Snatcher
by Liam O'Donnell
Owlkids Books
Nominated by: Terry Doherty
Myron is starting at a new school, and is dreading it. But then he becomes involved in a mystery when food starts disappearing from the school kitchen, and it is up to him and his new friend Hajrah to solve it. Myron is autistic and the way his brain works helps him be an excellent detective. This book lays out a mystery that is relatable for all children and fun to solve.
Elementary / Middle Grade Nonfiction Book
I, Fly: The Buzz About Flies and How Awesome They Are
by Bridget Heos, illustrated by Jennifer Plecas
Henry Holt
Nominated by: Terry Doherty
In this lively book, a cartoon fly narrator explains that, even though they aren't as attractive or iconic as butterflies, house flies deserve to be studied. Readers soon learn house flies go through complete metamorphosis like butterflies, but their larvae and pupae look very different. They also discover facts about house fly flight, anatomy, house fly relatives, and even some problems with flies. This lighthearted approach will capture children's imaginations and also make an unusual (and sometimes gross) subject more palatable.