Adapted Classics: The Art behind the Stories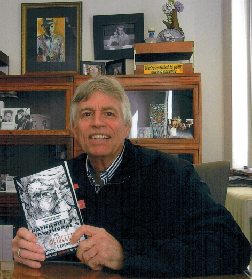 Several years ago, I had a chance to read and review Jerome Tiller's debut book Sammy's Day at the Fair; The Digestive System featuring Gut Feelings and Reactions. It was a collaborative project, based on his son's science fair project. This summer, Jerome reached out to tell me about his new endeavor: Adapted Classics. These are illustrated versions of select short stories. As he explained in our interview at the Reading Tub, the goal is to bring classic 19th century literature to a more modern audience.
One of the key aspects of adapting these stories is that they are illustrated. There is so much to explore on the imagery side of the equation, that I asked Jerome and Marc Johnson-Pencook to talk about their art, their collaboration, and the muses who influence their work. [I think you'll be surprised!]
Adapted Classics – The Illustrative Process
Terry: In our Reading Tub interview, you describe how Adapted Classics brings visually rich stories of a bygone era to new audiences. You opted to adapt these stories in a traditional story format and add illustrations.
Because they are visually rich, they seem "ripe" for being transformed into graphic novels – a format popular with struggling readers. What are your thoughts about adapting classic literature to graphic novels?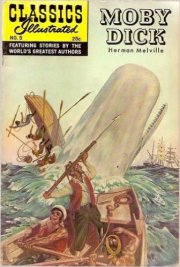 Jerome: I loved classic comic books when I was growing up – I wonder how many times I read through Moby Dick, Treasure Island, and other comic books in that classics series. Illustrator Marc Johnson and I have talked a lot about the graphic novel format for the Adapted Classics stories, other classic works, and even original works of our own.
Marc has experimented extensively with the format for fun over the years and has accumulated a lot of material. It is very good. Classic short stories could be adapted in the same way, and maybe we will do that in the future if we gain some traction with our series.
We realize the books we do now are suited for young people who love to read, and particularly young advanced readers. They are even well-suited for adults who love illustrations. But they are not suited so well for struggling readers. We could switch to a graphic format if our current series doesn't catch on. We are definitely interested in the format, and we do talk about it.
Terry: Can you tell us more about how the illustration process works? Did you mark specific "scenes" you wanted to illustrate as you prepared the adaptation, or did Marc select them?
Jerome: I select the scenes and make text and spacing modifications so that illustrations will fall either next to or just following the scene that Marc illustrates. Then Marc and I meet. I identify the scenes to be illustrated, we discuss the story and the scenes, and then Marc gets to work. He's the artist, so I allow him to render the characters and the scenes as he sees them without much if any direction from me. He likes the artistic freedom of our arrangement, and I really like the results. A couple, maybe a few times, I had him modify an illustration before he applied ink to it, but that's it. His interpretations are great.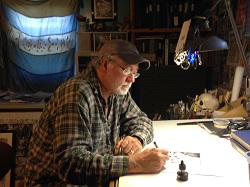 Terry: What about those interpretations, Marc? Would you say the descriptive text guides you or do you feel "hemmed in" your natural illustration styles?
Marc: I focus on descriptive words the author has used  and let them fleck my imagination. I have also studied N.C. Wyeth's works. Wyeth felt an obligation to go beyond the wording by adding other visual information that would enhance the storytelling. By using both approaches simultaneously, I never feel hemmed in by the words.
Terry: Nathaniel Hawthorne's and Edgar Allen Poe's stories are very visual. As you read them was it hard to decide what "scene" to illustrate?
Marc: This whole series of books we've done is Jerome's brainchild. He chooses the story, lays it out on computer, and outlines his ideas for what would make a good sequence of illustrations. Jerry is very good at pacing the imagery to flow through the text.
We meet to talk about the ideas. I would have to say 99 percent of the time, I totally agree with his choices. That is the way we have always worked together. Jerome allows me to have my whimsy and a lot of creative freedom with the drawings. He lets me execute them to the best of my ability.  
Terry: Marc's illustrations have that wonderful, noir look about them. Do you have a personal favorite?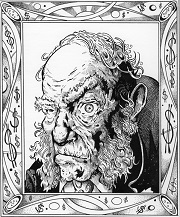 Jerome: The portrait of Dr. Heidegger is so fine – it was the very first Adapted Classics illustration that Marc did – so that's my favorite for both reasons. Plus a modified rendition of that illustration is on the cover of our first book, so there's some more sentimental value. Gosh. It is so hard to pick just one, though. Marc is such a great illustrator.
James Robinson, the owner and operator of the Art Academy in St. Paul, Minnesota, says flat-out that Marc is the best pen and ink illustrator around.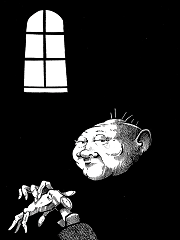 Let's see – how about the dance scene reflected in the mirror in Dr. Heidegger's study? Or Charley Goodfellow reading the letter in Thou Art the Man? Sorry – on any given day I might like any other one the best! Marc is terrific!
Terry: What drew you to working on the Adapted Classics project? is this your first work with literature for young readers?
Marc: Two things:  A chance to illustrate great literature, and the opportunity to create them in pen and ink. Before I started on Adapted Classics, I had illustrated nearly 20 picture books. They were all in color, so I welcomed the opportunity to illustrate in black and white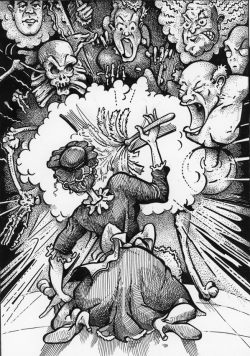 Terry: Were there 19th Century illustrators or artists whose styles you found particularly helpful in creating the imagery for the adaptations of Hawthorne's and Poe's work?
Marc: The Golden Age of Illustration (roughly 1850-1950) provides a wide pallet of artists whose work I can only hope to aspire to. Here is a short list of some of those artists I admire: Arthur Rackham, Aubrey Beardsley,  Heath Robinson, John Held, Howard Pyle ,Harry Clarke, Robert Lawson, Charles Dana Gibson, Edmund Dulac, Jesse Wilcox Smith, Maxfield Parrish, and Heinrich Kley.
I have been affected by so many creative influences that I feel it is part of my process to be aware I am not the sole messenger. There are so many artists – and not just illustrators. I would add the Beatles, Psychedelic music, Pink Floyd, and Syd Barrett to my list of muses.   
From Mad magazine, Hank Ketchum, and comics creators to Bernie Wrightson, M.C. Escher and Andrew Loomis, I've been turned on to all these sources through teachers, friends, and the media. I find discovery of one artist will always lead me to dozens more. It's Karma.
RT: If you could recommend the next Adapted Classic to Jerome, what would it be, and why?
Marc: The Monkey's Paw by W.W. Jacobs. Because of their subject matter, I'd also add anything by Edgar Allan Poe or Ray Bradbury!
RT:  This question is for both of you. When you're not reading to research a project, what kinds of books (if any) do you like to read?
Marc: I read mostly biographies and books about film, art, music, and other pop culture delights.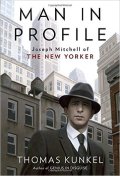 Jerome: I am reading a great biography about one of my favorite writers, Joseph Mitchel. The biography is Man in Profile: Joseph Mitchell of the New Yorker by Thomas Kunkel. I am also reading two of Mr. Mitchell's collections: Up In The Old Hotel and My Ears Are Bent. I have read through both collections a few times and dip into them often. I can't express how much I admire Joseph Mitchell; Kunkel's biography is top-notch.
In one way I resemble Joseph Mitchell – I am too stuck in the past. I tend to like the "old stuff." My son Paul and daughter Claire continually push me into the present. I like it when I get there, but I almost always need a boost from one of them..
RT: Thank you both for being here and creating such a great wealth of reading ideas for us!
Marc:  Thank you so much for taking an interest in the process.
Jerome: Thanks, Terry. It was fun catching up AND rekindling that shared passion for children's literacy.
GET CONNECTED WITH JEROME AND MARC
Website Links