AmazonSmile – Shop & Give Back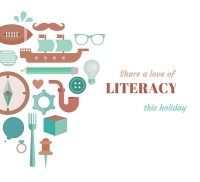 Have you heard about the new AmazonSmile program? It has only been around for a few months. For nonprofits like The Reading Tub that rely on "passive fundraising," AmazonSmile is a reason to, well, smile!
In a nutshell, AmazonSmile is Amazon, with all the features and selection of products on the main site. BUT, when you shop smile.amazon.com the AmazonSmile Foundation donates 0.5% of the price of eligible purchases to the charitable organizations you select.
The Reading Tub is one of the charities in the AmazonSmile philanthropic initiative. What is particularly beneficial to us is that there are no fees associated with the donation (unlike Paypal, which takes a small slice of your monetary contribution). It also doesn't cost you anything extra!
With holiday shopping right around the corner, we thought now was a good time to invite you to support the Reading Tub via AmazonSmile. Not everyone shops on Amazon.com, and we can appreciate that. [We have some options for you coming soon.]
If Amazon.com IS one of your shopping destinations, we would be grateful for your support. We are 100% volunteer. That means 100% of any contributions we receive go to helping families and kids who need books in their lives!
AmazonSmile is an easy way to shop
Use the search box to find "Reading Tub Inc."
Click "select" to choose The Reading Tub as your charity of choice.
Buy what you want and give to literacy, too.
Use the Firefox Extension to make it easy for Amazon Smile to kick in when you visit Amazon.com.
Shop and Give Back this Holiday Season
Thanks in advance for all that you do to help us get books and literacy help to at-risk readers and their families!
Feel free to use our "Share a love of LITERACY this holiday" banner on your website, blog or via social. All that we ask in return is that you encourage your fans and followers to support the Reading Tub via AmazonSmile or GoodShop.