Are eReaders the Answer for Dormant Readers?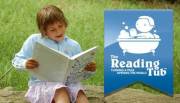 That was one of the Literacy 2.0 questions that came up this week on Quib.ly, a forum for parenting in a tech-based world. I knew I'd written about the topic of ereaders before, but couldn't find THE post I was looking for here on the Bookshelf.
This morning I found it … a post I had written on the Big Universe Learning blog last fall. With summer reading now upon us, I'm re-sharing here and would love your thoughts, too!
eReaders: The Ubiquitous Frontier
Before I go one sentence further let me say this – eReaders are fabulous.

I love our Nook … it is a family reader.
I love being able to read Kindle books on my phone.
We've all heard that eReaders can get kids excited about reading. Not. so. fast.
This summer my daughter had one required reading book: Lincoln : A Photobiography by Russell Freedman.  Me, being Smart Mom, decided that she'd jump on it faster if she could read it as an eBook.
I was wrong. Dead. Wrong.
Over the last year, Catherine has used our Nook as much as my husband and I. She'd read in the car going to / from sports practice (Dad read while she practiced). She'd ask to "keep reading" [insert title here – Percy Jackson, Magic Tree House, et al] in the evening.
We had fewer tussles when she could do her reading without having to turn a "real" page.
So what happened this summer? It wasn't the fact that Lincoln was required reading. We got her a paperback version and she would read aloud to us mostly without fuss.  Frankly, I was very surprised.
The experience has taught me some things that are worth considering before we declare e-readers the panacea for dormant readers.
The Novelty will wear off … just like any other shiny new thing. Using an eReader was fun for a while, but then it was "just like any other book." Even the newest toy in our house – my Xoom tablet and its bigger screen – wasn't enough of an enticement to read.
Environment matters. Catherine used an eReader to read in the car because she knew she needed to get her reading done and the screen is easier than paper and the car's dome light.
Format matters. The pictures in the Lincoln book look great on the ereader / tablet, but they were definitely different. Catherine spent a lot more time poring over the paper version of the photos. She'd go back and forth among the pages revisiting them … something much easier to do with paper.
In looking back at our summer experience, I don't think one reason weighed more heavily than another. In looking forward, I think free choice matters, too.  It could be that the required reading element was a contributor … I guess we'll find out this coming summer when we have two chapter biographies to read!
____________
What has your experience been with trying to engage kids to read via a screen or eReader?
Disclosure: Affiliate links in this post.