Back to School – Back in the Groove
As y'all know, I stepped away from the blog this summer to focus on other stuff. Summer isn't over, but it's time to get back in that transition groove.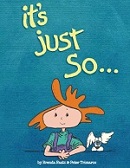 It's just so … good to be back! School itself is in my rear view mirror, but I still love everything that comes with the start of a new year … especially the discovery of new things. So it is very fortuitous (and a lot of fun) to share what I learned in my interview with Peter Trimarco and Brenda Faatz.
The husband and wife team have been writing for youth theatre productions for many years. They recently launched their debut picture book, It's Just So… and introduced the adorable Lizzy to the world.
We have a two-part interview. In the Q&A below, I talk with Brenda and Peter about their new book and ways to read it with children. On the Reading Tub, Brenda and Peter explain how they weren't readers as children, but what (or who!) ultimately helped them discover a love of books.
Please welcome Brenda and Peter to the Family Bookshelf.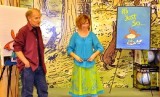 RT: Congratulations on the journey of becoming a children's author and illustrator! It has been fun to live vicariously through the joy that bounces off my screen in your emails.
Peter: Thanks, Terry. We are having so much fun. As I think I mentioned, at a recent event at Barnes & Noble, we had everyone – including parents – dancing to the "Wallaroo Wiggle," an original song Brenda created for the book.
RT: I can see why! Everything about It's Just So… has a lyricism to it. You both have incredible careers in the performing arts. When you decided to write a children's book did you find it easier or harder to create a "script" for a print audience?
Brenda: It's been a blast expanding our writing from live performance scripts and song writing for print. The big differences we've found are that we need to be more concise than when writing scripts and more literal than when writing songs.
We've gone over every word, every sentence and every illustration more times than we can count because we feel every detail of this book is important to the whole.
RT:
In fact, Lizzy first came to life in one of your plays. Can you tell us, Peter, a little bit about how Lizzy appeared in your illustrator eye?
Peter: We wrote a musical theatre production called Wee Noteables, and Lizzy is drawn from a character named "Pockets," portrayed by Brenda. That character has a little Carol Burnett meets Harpo Marx in her DNA.
As we dove deeper into writing the book, I was trying to illustrate a character who was true to Brenda's "Pockets" character, but also one that had a distinctive look, and a silhouette that you just know can only be Lizzy. As important, we wanted our main character to be accessible and appealing to both boys and girls.
RT: It's interesting that you describe the story and character as part of a broader "concept." Can you elaborate on that for our readers?

Brenda: We have journals full of thoughts, ideas and notes that preceded publishing It's Just So… — and hopefully many future Lizzy books.
The original idea of It's Just So… was to present situations children could relate to and where their perceptions would be challenged to consider new perspectives.
Our phrase "It's just sooooooo……" is inspired by what we so often hear our children say, sometimes out of frustration ~ sometimes of glee.
RT: In It's Just So… Lizzy is preparing for her first day at a new school. Although many reviews have focused on the back-to-school element [see: Children's Book Review], it seems like there is "more to the story." What other concepts would you like readers to take from the story?
Peter: It is actually a story about perspective and the feelings children and adults experience when facing any changes to their routine or living outside their perceived comfort zone. The back to school theme proved to be a great backdrop for opportunities to draw out emotions that every child can relate to.
Similar experiences could be moving, trying a new sport, or even connecting with a different group of friends. Things are not always what we expect and making assumptions can be so limiting.
What Lizzy helps us see is that once we embrace new challenges and stare down our fears, things might be just so "fantastical."
RT:
'Tis the season for back-to-school jitters, from first day of preschool to new school/new friends! How would you suggest that parents introduce Lizzy and It's Just So… to their children?
Brenda: There are many different ways to introduce our book to a child. Much of that is dependent on the child's developmental level. But not all of it. Parents have purchased our book for graduating seniors as a means of encouragement.
For our youngest readers (the kids who prefer listening to books), we recommend doing a "picture walk." Look at each page, ask questions about what your child sees, and read mainly the more colorful words in larger fonts. Allow the kids to really devour all the delicious detail in the illustrations. They will glean everything they need using just these things.
For older children, the rhymes and made-up words will challenge their imagination and enrich their experience.
Regardless of their age, it is great to share the book together the first time you read It's Just So… because there WILL be questions about some of those crazy words, and hopefully some giggles to share!
RT: Rhyme is just one way your story plays with words. The pages incorporate color, size, and even create new words to engage readers. What (or who) was the inspiration for some of the new words?
Peter:
The idea of introducing "made-up" words came from our experience working with the kids at our children's enrichment center. We made up a few of the words in the beginning. I believe the first one was Fizz-astro-fantastical on the science page. Then Brenda took an early draft of the book to a class of four- to five-year olds and read it aloud.
Initially, the younger ones "got" more of it with a picture walk while the older kids grabbed onto the lyricism of the rhyming story. When a few made-up words were dropped in, it quickly became a game of all the children parsing out the real adjectives from the made-up ones. Soon everyone was experimenting with creating adjectives and adverbs.
Needless to say, we went back to the manuscript and focused on making the fun vocabulary a solid thread throughout the book. Now we're seeing the rewards of that work. Educators and librarians thank us because the book helps them with lessons about "describing words."
RT: Does this mean that you envision original vocabulary being part of every story?

Brenda: But of course. These words are abso-linguistically essential-istic to ensure the funtastic-ness of all Lizzy books!
Read more about Lizzy's first day of school, fun words, and
how Peter and Brenda became readers in our interview at the Reading Tub!
Images:
Copyright Notable Kids Publishing. All rights reserved. Use with permission.