Back-to-school Time: Make it a Family Adventure
Ready or not, it is back-to-school time for students of all ages.  Gone (or almost gone) are the unscheduled days and late nights.  In come the more structured days and homework routine.
Some of us love the rituals that come with school … some of us don't. While back-to school may not be your favorite thing, there is no reason it has to be drudgery either. Here are a couple of ideas that can make the process more enjoyable for everyone .
Back-to-School Adventure Idea 1: Revive the bedtime story time
For lots of reasons – later bedtimes, daily reading requirements to name two – we abandoned our evening read aloud this summer. We did read together a few times, and it was clear that we all missed this time together.
Reigning in the sleep schedule for an almost-12-year old is not going to be easy, but reviving our read aloud time is sure to help the medicine go down.
Planning some read aloud time – or just reading time  before lights out – has several benefits. Not only does it help with adjusting your child's sleep schedule, but it adds some personal reading . A win win.
Back-to-School Adventure 2: Start a family journal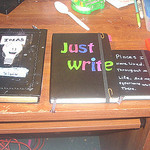 It doesn't have to be fancy or elaborate, but a community journal is a great way go capture the year AND walk-the-talk that literacy is part of everyday life.
How the journal works is totally up to you. The daily entry might be rotated among family members, or there might be one scribe. Maybe you'll draw a daily picture, maybe  it will be a word of the day, or maybe it will be a fictional chapter story. The sky is the limit, but the key is that you set aside the time to do something with the journal every day.
Back-to-School Adventure 3: Share your back-to-school story
I don't ever remember not loving school.
Bill doesn't remember ever liking school, much less loving it. The good news is that he is a certified bookworm. He loves reading … which means he still loves learning.
He's told Catherine about his opinion of school as a boy. That honesty goes a long way. Kids don't see us as kids … they think that because we say "school is important" that we liked school.
We must have, because we're successful. Is it ideal if a child doesn't like school? No. But having someone they can talk to about their reasons is important. For them and for us.
Here's to a great year ahead!