3 Back-to-School Ideas Perfect for Summer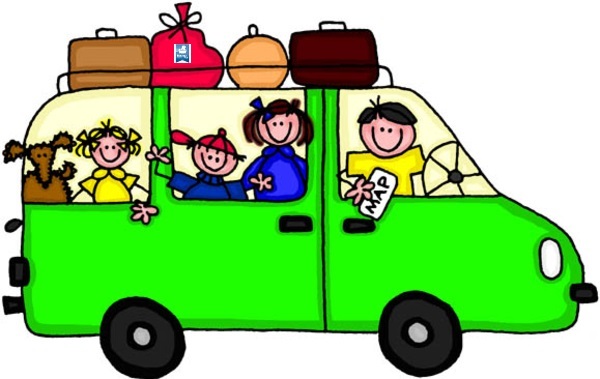 August is here, and there is back-to-school in the air! I don't know about you, but I am not ready to be *done* with summer yet.
Is there a way to enjoy BOTH seasons? Absolutely.
I found this in an August 2013 post I wrote on the subject  …
Ready or not, it is back-to-school time for students of all ages. Gone (or almost gone) are the unscheduled days and late nights. In come the more structured days and homework routine. Some of us love the rituals that come with school … some of us don't.
That 2013 get ready for back-to-school post offered three literacy-related adventures that can help ease everyone back into the school routine. One of my faves (of course) is reviving bedtime story time … even with teens!
This year, I have three ideas that are more about summer and less about school – but still rekindle a love of learning.
I ❤ Summer Back-to-School Ideas
Get Cooking!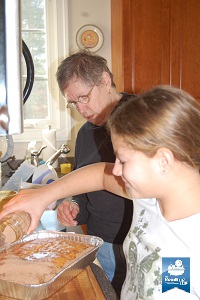 Recipes and store lists are great ways to engage kids with practicing a variety of skills: reading, math, organization, and sequencing events. Cooking together may be as simple as pulling out an old family recipe, searching for ingredients in the pantry, and/or creating the shopping list, then making it.
Here's another idea – pull out the cookbooks (yes, I'm old school) and search for a new recipe for a long-time favorite food (corn salsa anyone?). Create "tasting cards" so that everyone in the family can rate the new dish!
Bonus: Stir in some storytelling! Ask questions about why your child loves it so much, or share stories about why it is a special recipe for you.
Double Bonus: You might find some great recipes that are perfect for school lunches …
Got a Question? Put it in the Discovery Jar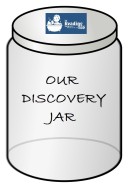 Kids love to ask questions that we don't have the answer to, and this is an easy way to follow through on getting them an answer. This activity not only feeds their curiosity, but it also helps them learn how to find answers and conduct research.
You'll need a pen or pencil, some paper (cut into note size, about 2″ square), and a container. Plain or fancy, coffee can or pickle jar  – doesn't matter! The idea is to have a place where people can drop questions about the world around them.
You can either start the jar yourself by writing down the next question you're asked; or it can be a family activity. The important part is writing down questions in the moment.
Each day, pull ONE question from the jar, then search for the answer. Some questions might require an "experiment." Others, a little research. If it works for your family, take the question(s) to the library and look for age-appropriate books that can help. With so many of us carrying mobile computers, we can do our research on line, too.
NOTE: Although it is tempting to run through lots of questions, you'll keep the kids coming back for more if there is only one per day. Plus, that helps keep "screen time" to a finite task and amount of time.
Plan a Scavenger Hunt
Scavenger hunts are another great way to keep kids minds' (and bodies) active as they work their way through the task of finding a set of specific items. I have always found them to be addictive. You might create the first one, but then the kids take over and start creating their own hunts for siblings and friends.
With younger kids, simpler is better. Tasks like "Find a yellow pencil" are specific enough, but still recognizable. For upper elementary students and older, push the learning. Ask for a "yellow leaf from a tomato plant" or a gray rock that measures 2″ across.
With a back-to-school themed scavenger hunt you can have the kids find last year's school supplies and then build a shopping list for this year!
These are just a few ideas on ways to keep summer going despite being pushed into back-to-school mode. You may have some traditions of your own – we'd love to hear about ways you prepare yourself and your kids for going back-to-school but still keep that summer feeling going!