Book Reports – Literacy + Life for Summer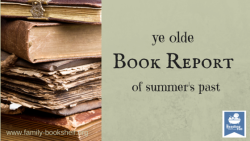 Some of my favorite memories of summer come from visits to the library. It was the time of year for fun, leisure, pick-my-own books reading. It was also the time for book reports.
You see, my dad was a teacher, so in our house we had to read 10 (age appropriate) books over the summer … and write a book report for each one. Yes, write – pen to paper! There weren't any other options.
I liked to write, so it wasn't a big deal. For my brothers, though, it was torture. I often wonder if they were kids now, would it be the same way? There is great value in hand writing a report. BUT if there had been a way to create book reports that were more fun, would they have liked reading better?
Would they have actively looked for books that let them create the kind of book reports they liked?
Why do we even need Book Reports?
I didn't know it at the time, but there was a method to my dad's "madness." The requirement to read books (of our choosing) was a way to keep our reading skills in tact (i.e., avoid the summer slide). Writing those book reports was more than just 'proof' that we read the book.
It showed our comprehension – did we 'get' the story?
We practiced sequencing – did we put the story's events in the right order?
It gave us a chance to practice writing in all its forms – small motor skills, grammar & punctuation, etc.
3 Ideas for Creating Book Reports
Thanks to technology (more specifically hand-held technology) there are lots of unique, engaging ways to accomplish the goals of creating book reports without ye olde drudgery.
Each of these ideas can be done with traditional writing (or typing) or using technology (video, photography, podcasting, online tools).
1. Create a letter. Let your reader compose a letter to one of the book's characters. Starter ideas …
talk about things they share in common;
Explain why "x" choice wasn't a good one;
ask questions about the character, events, or places from the book.
2. Script a newscast. Let your reader be a news reporter.
They might create a "live from ___" to do an on-scene report related to an event in the book.
They could give you a list of questions so that you can interview them about an event (with them in role as a story character).
They could present the report as an 'infomercial.'
3. Draw a comic of the story. It could be as simple as a scene from the book, three or five frames, or more sophisticated like a graphic novel.
Illustrated book reports are particularly great for developing readers because they need to 'describe' their drawing to you.
Your turn …
What are some of the creative book reports that you've seen or encouraged kids to create? Do you have a favorite tool?