Book Review Milestone: How to Outswim a Shark by Jess Keating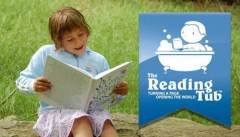 We thought we'd make it last year, but we came up just short. Today, though, I'm thrilled (and awed) to report that we have published book review 2,400. Our milestone review is Jess Keating's latest title in the My Life is a Zoo series.
Frankly, I can't remember the last time we published a book review for a newly released book. [The book launched on January 6, 2015.] So it feels odd – and kinda cool – to be part of the initial buzz surrounding a new title.
One of the things that sets our book reviews apart is that we want our visitors to get as many opinions about a book as possible. So if you've had a chance to read and write a review for How to Outswim a Shark without a Snorkel, be sure to add your book review to the collection on The Reading Tub.
BOOK REVIEW – Middle Grade Novel
How to Outswim a Shark without a Snorkel
by Jess Keating
Sourcebooks Jabberwocky, 2015
Swimming with sharks (snorkel or no snorkel) is easy compared to navigating life and friendship.
Summary (with a few more details)
It isn't easy being world-famous Shep Foster's granddaughter, though Ana Wright is on her way to being famous, too. She can't walk around the zoo without being recognized by her young fans (thanks to that crocodile presentation and 3.4 million views on the Internet).
It is going to be an exciting summer at the zoo, too. Grandpa is putting the finishing touches on the new Marine Adventure Zone and he wants his "Ana Banana" to be the star of the shark tank! Just when she's getting used to the idea, she gets some bad news: "Ashley the Sneerer" is interning at the zoo this summer, too. A-N-D she is going to be working with Ana on the shark presentation.
Ana's burning questions: Why is Ashley here? Why is she being nice? What's her motive? and why does her best friend Liv have to be in New Zealand?
A Reader's Perspective
Read. This. Book. Whether you need a laugh or just want something that makes you smile, this is the book to pick up. I had not heard about the My Life is a Zoo series, and even without reading the first book, this was great.
Ana's voice resonates from the page. She is daughter, granddaughter, sister, and less-than-confident 12-year-old. She's also got a keen eye for life.
Ditto for Ashley. I don't think it requires a spoiler alert to say that Ashley is not quite the girl Ana thinks she is. Like Ana, she's got some growing pains and she's tackling them head on.
If you stop reading our book review and say "oh, that's a 'girl' book" then you'd be wrong. And you're selling your readers short. The story is about
(zoo not withstanding) family life and relationships;
growing up – (see quote below!);
dealing with change – losing your best friend to New Zealand;
life beyond school.
Yep, it's true. Beyond the marine animal facts and Ana's Creature Files is the true story of how research isn't just for term papers. Almost all of our cast works in the zoo – with scientists – and they are using a lot of the same skills they are learning in school for their jobs. Very effective way to weave in some STEM learning without anybody watching.
Tagged Quotes
These are a few of my favorite moments, marked with a Post-it.
To the brave kids, the weird kids, and the cool kids. Especially the ones who don't yet realize they can be all three. (Dedication page)

Was this why all those people in teen movies are always crying? Maybe the leap from twelve to thirteen is like jumping over an Amazonian river, where you're not sure if your going to make it or be eaten by piranhas instead. It was enough to make me want to hide under my pillow until I was out of this mess called "puberty." [Chapter 14]

I always used to think that friends were something you found when you were younger, and you got closer as you got older together. You either had them, or you didn't … [Chapter 23]
There is more to that second last quote, but I don't do spoilers.
Bottom Line
Go to the library [links to the book page on worldcat.org] or buy yourself a copy. This is a refreshing, wholesome read. It begs to be shared and read aloud, and would be an excellent choice when you are  trying to select a book that works for mixed ages.
We thoroughly enjoyed How to Outswim a Shark, and did not feel like we were left behind by not reading book 1. That said, we are going to  grab a copy of How to Outrun a Crocodile When Your Shoes Are Untied … and be on the lookout for all the titles in the series from here on out.
If you've written (or are planning to write) a book review for How to Outswim a Shark, be sure to add it to the book review linkup  on the Reading Tub!
____
NOTE: This book review contains affiliate links to amazon.com. Any income from affiliate links goes to supporting our 501(c)(3) family literacy mission.