Book Review Milestone: Unspoken by Henry Cole is #2225
Unspoken, a Story from the Underground Railroad
written and illustrated by Henry Cole
Scholastic Press, 2012
What an apropos book to be our 2,225 book review. A wordless picture book that left us speechless. I was speechless when I saw the review count after I hit "publish," too. Progress. If all goes well – and the kiddos stop getting snow days – we'll be hitting 2,500 within the next few months. Stay tuned.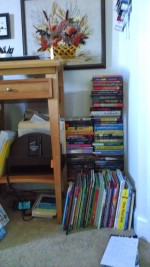 My primary project for 2014 is to reduce that To-Be-Reviewed pile over there to almost nothing. Each week, I set a target to get six book reviews written and/or published. Three for books that I've read over the last two years, three from our Teen Star Review Team at Be the Star You Are® (BTSYA) from last fall. So far, so good.  Follow these links to the Reading Tub® to see some of our recent faves.
When you get to the Reading Tub® website, you'll notice that we invite other bloggers to add their reviews. The more voices we can share, the more informed choice a parent can make on whether or not their child would like that particular book.