BookTalk: Wings and The Unseen World of Poppy Malone
I'll give you the conclusion first: if you like character-driven stories, these are your books. Wings by Aprilynne Pike and The Unseen World of Poppy Malone by Suzanne Harper are stories built around a small cadre of characters … some real, some from another world.
Although the books are for two different audiences and approach fantasy in two different ways, there are some wonderful themes that blend well together.
The Unseen World of Poppy Malone, the first book in A Gaggle of Goblins series, is built around visual humor that upper elementary and middle-grade readers love. For example. Shortly after they move in, Professor Oliver Asquith arrives at the Malone house in need of a place to hide. He angered some Slovakian vampires and needs a place to stay. Instantly, Mrs. Malone starts hanging cloves of garlic in all windows and even the chimney, to build a ring of protection around the house. Can't you just see that house?
In Wings Aprilynne Pike relies less on humor and more on the natural interplay among teens. The reference to a "love triangle" on the back of the book instantly suggests that this is for a more mature audience. As the story progresses, Laurel Sewell discovers she is not a human, but a plant. She is a fairy who was placed with a human family to help protect the fae.  I didn't see a "love triangle," but a young woman trying to understand where she fit in and taking responsibility for who she is. In preparing this review, though, I discovered that this is book one in the Laurel series. As the story continues, I might change my mind.
Home, Sweet Home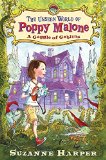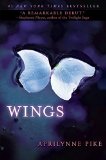 Both books open with the girls Laurel and Poppy have new places to call home. Moving is nothing new for Poppy. She's moved so often (18 times!) that she's started keeping a journal.Her parents are researchers who "tracked UFOs, pursued monsters, and investigated rumors of vampires." When the grant money runs out, it's time to move. To say that her parents' profession makes Poppy uncomfortable is an understatement. She is a scientist! She believes only in what she sees. When things start going wrong in the new house and she "sees" a goblin in the attic, her worlds collide.
Laurel has been homeschooled her entire life. Now, to help her spread her wings, her parents have moved to a slightly larger town so she can attend high school. She feels like an outsider, which is only confirmed when a flower starts budding in the middle of her back! Classmate David Lawson was smitten with Laurel the first time he saw her, and they've become friends. David introduces her to his circle of friends and helps her adjust to high school life, but Laurel misses the old house and the woods out back. That will always be home to her … until her dad gets sick and her mom sells the property to pay the bills.
Girls Rock!
Both Poppy and Laurel are on paths of self discovery. At the beginning, neither sees just how strong they are, although the reader can see it instantly. Although this is a tried-and-true theme for building a story, the authors approach that journey differently, and neither seems trite or overdone.
As a self-proclaimed scientist Poppy Malone is really struggling with the idea that goblins exist. After spotting that gnome-like creature in the attic, Poppy put her skills to work. She set up a motion-sensitive camera and started reading some of her parents' textbooks. Ever observant of the world around her, Poppy noticed that after a hike in the back woods, her usually rambunctious baby brother Rolly had not only become compliant, but downright polite! A little more research led Poppy to suspect that Rolly was actually kidnapped and this "Rolly" was a "changeling," a goblin who took Rolly's place. She needed to enlist her brother and sister's help to find Rolly and bring him home, but like here, they scoffed at their parents' beliefs.
When that "something" opened on Laurel's back she was petrified. Was it cancer? She pulled off a piece and took it to David, asking him to study it with his microscope. When he told her it was plant matter, she was confused. Knowing she needed to trust someone, and knowing David's logical mind, she showed him the flower. During a trip back to the old house to try to make some sense of it all, Laurel met Tamani, a guard of the fae. He confirmed that Laurel was a plant, but offered little else. David and Laurel pored over books and texts – nonfiction and fiction alike – to understand faeries. David helped Laurel, but as a guide. She took the lead in her journey and he was there to support her.
Keep that Mind Open
Although he has a supporting role, David is the character that reading skeptics would logically be drawn to. He's a guy, he can't possibly believe this fairy stuff. What I loved about his character is the way he approached science. He let the facts speak for themselves, but he didn't dismiss something just because he had never seen it or didn't understand it.
Poppy didn't want to believe what she was seeing.  She flashed her "I'm a scientist" credentials to prove that her parents' activities were hocus pocus, not research. She kept dismissing it as her eyes deceiving her, or some other excuse. It wasn't until Rolly went missing that she had to accept the data she had put together. When fellow skeptics Will and Franny said she sounded like her parents, Poppy realized that
Some might argue that David had a more mature view of the world because he is older than Poppy. I would say that the "how" of approaching the world has nothing to do with age, but environment.
Wrapping Up
I liked both books. The characters are realistic and have depth. The authors tell both stories in third person, it is easy to understand Poppy's and Laurel's perspectives as though you're there with them. Both books are highly recommended.
The Unseen World of Poppy Malone is for upper elementary and middle grade readers; and it will appeal to both boys and girls. There are no internal illustrations, but the narrative is quite descriptive and visual, which will support comprehension. With lots of dialogue, action, and humor, the fast pace it will appeal to dormant readers.
Wings is for young adults. The story has more mature themes – though nothing unwholesome – and is a bit more complex. With a 3.5 reading level, it also has great potential as a high interest / low readability book for high school students.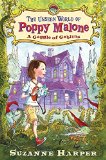 The Unseen World of Poppy Malone (A Gaggle of Goblins Series, Book 1)
by Suzanne Harper
Greenwillow Books, 2011
Read together: 8 to 12; independent reader: 9 and up
Reading level:3.2 (Flesch-Kincaid)

Other Reviews – No blog reviews found.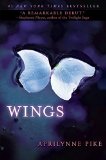 Wings (Laurel Series, Book 1)
by Aprilynne Pike
Harper Teen, 2009
Read together: 12 and up; independent reader:12 and up
Reading level: 3.5 (Flesch-Kincaid)
Extra: The original opening for Wings on Aprilynne Pike's website.
Other Reviews
Teen Book Review, January 2009
Book Addiction, April 2010
One Literature Nut, May 2011