Celebrating National Poetry Month
National Poetry Month!
Welcome April and a celebration of all things poetic!
This is one of my favorite literary months, because poetry is a writing form that can be such fun and ignite a love of reading. Yes, I know there are plenty of "stuffy" poems out there, but in the world of children's poetry, the writing is a rainbow. The imagery is lyrical, fantastic, and at times poignant, too.  But all of it is accessible to kids "where they are" and a great hook for reading, writing, and creative expression.
This year I'm going to do something a little bit different for National Poetry Month. I'm going to share some of my own poetry – written, I am certain, for a poetry Unit in 1977.
One of my projects this year is to "downsize" all the stuff we've collected over the years. I have previously mentioned finding all my journals, but there were additional discoveries, too.
Like My Poetry Notebook Written Especially for You! It is a collection of different types of poems that I must have written for Seventh Grade English (it wasn't Language Arts back then). From my Name poem to the Septone, each poem is handwritten and illustrated. It is rather cool to rediscover my 13-year-old self.
Over the next 30 days, I'll be sharing some of those poems. Let's kick off National Poetry Month with an excerpt from the Tribute Poem …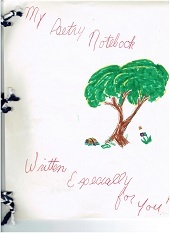 Mom and Dad,

This is for you. You've had to go through a lot these past 13 yrs, and now I feel I owe you something …

We've had some bad times, but I hope to leave them behind to forget and only remember the fun and crazy times.

Thanks for everything.

Lovingly yours,
Terry
A gift of poetry! Can you think of a better way to start April and kick off National Poetry Month?
Some National Poetry Month Resources
Here are a few websites to get you started. We'll add some new ones to each of our National Poetry Month posts.