Chalk it Up as a Great Gift
I shouldn't say this but I will – chalk is SUCH an easy gift! As you know by now, we are taking a break from our usual Throwback Thursday Book Review schedule to focus on sharing gift ideas with a literacy twist. These are featured selections from our Gift of Literacy board on Pinterest.
When I started thinking about our Read It and Keep series, Chalk by Bill Thompson was one of the first titles on my list. The story is imaginative in and of itself, and with chalk in hand, it offers endless possibilities for children.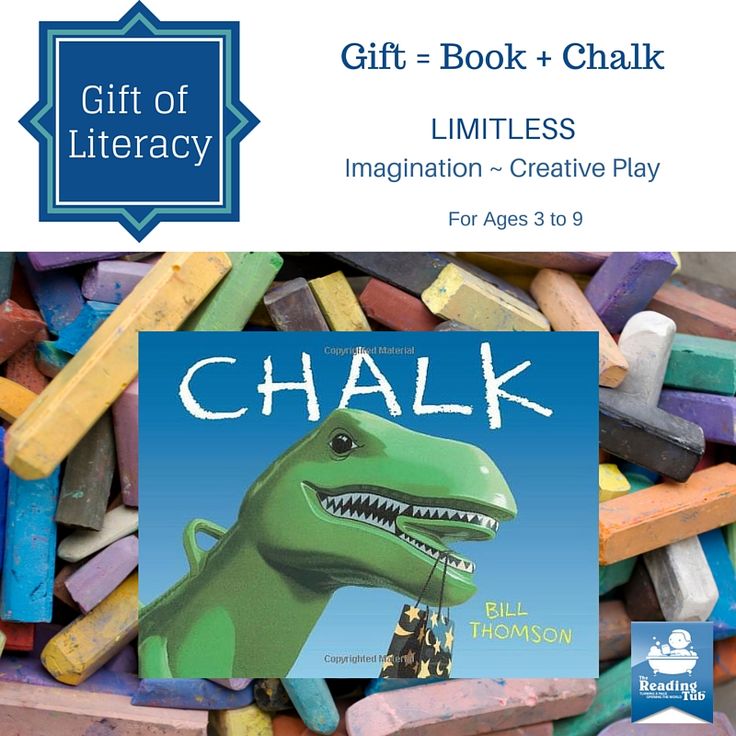 Chalk Stories …
This is my go-to gift for preschoolers and young elementary students. The book alone is a great gift and is sure to offer hours of enjoyment sharing it together. Then there's the obvious: pair the book with a box of sidewalk chalk. Now your gift offers endless play, pushes the boundaries of imagination, and (last but not least) gets the kids outside!
Take your gift to the next level by taking your smartphone outside with you.
As the kids start drawing, ask them about what is happening. Take pictures as their story unfolds or video the writer / artist telling the story.
Draw (or mark off with tape) a series of boxes. Let each box be a 'page' for your artist to draw a scene from their story.
The last idea, in particular, may be more attractive to older kids.
_____
These gift pairing images are part of our Gift of Literacy Pinterest board. Visit us on Pinterest to discover books and creative literacy recommendations for every audience from infant to teen. There are plenty of recommendations like Ivy and Bean on our Books Make the Best Gifts and Series for New Readers boards, as well.
Links in this post go to our Pinterest Boards. You can support The Reading Tub when you shop for gifts this holiday by visiting smile.amazon.com.