Children's Literacy and Reading News Roundup – MidSeptember
Welcome to the mid-month edition of the children's literacy and reading news round-up, brought to you by Jen Robinson's Book Page and Scrub-a-Dub-Tub, a Reading Tub blog. With school back in session, there have been lots of information about literacy and reading events, programs, research, and news. As is our new tradition, I've also included a few videos!
First up – Congratulations to our friend and colleague Carol Rasco and Team RIF … Reading is Fundamental has made it to the next phase of the American Express Members Project. Please vote as often as once a week to help RIF receive $200,000 to offer kids new books and reading motivation.
Events
Have you heard? September is National Library Card Sign-up Month here in the States. When I found this video in the 1 September 2010 edition of American Libraries Direct. I thought, wow this is a great reminder about what a national treasure we have … and how thankful we should be. In 1991 there were NO children's libraries … now there are almost 50.
Then, within 24 hours, the incomparable Susan Stephenson sent me this vintage poster from the Library of Congress: "September – Back to school … Back to work … Back to books." Is that not just too perfect?I know Jen has thanked Carol Rasco and me for helping with the Roundups, but I couldn't have gotten HALF these great links without Susan! So THANKS BOOK CHOOK!
Got an idea? A really innovative idea? The US Department of Education announced the recipients of the $650 million Investing in Innovation (i3) grant competition. According to the Center for High Impact Philanthropy, the Children's Literacy Initiative (CLI) is one of the most highly rated recipients. The CLI's Model Classroom Innovation for Raising Teaching Quality and Increasing Student Literacy Achievement project was selected to receive a $21.75 million validation grant for growing programs with emerging evidence of success. Now, the CLI needs to raise a 20% match of their potential award from private donations. If they do, the i3 grants will provide scale up, validation, and development funding to promising programs aimed at improving student outcomes and closing achievement gaps. Read this CHIP blog post to see a more complete analysis of the impact this initiative could have on teachers in students (Kindergarten through third grade).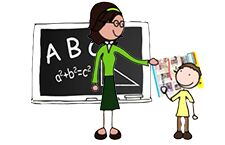 For the 2010-2011 school year, Scholastic's ClassroomsCare literacy program has adopted the theme "The United States of Reading. the idea is to emphasize state pride and giving locally, with emphasis on giving voice to America's teachers, students, and parents who participate in the program. From the press release: "Reading is not a given for many of our nation's children, some because they don't have access to books, others because they have no one who can show them how to use them. Whether in cities or in rural areas; living with parents, or with other caregivers; in any one of the fifty states, these kids need books so they can, in the words of Scholastic's President Richard Robinson, 'Read Every Day' to 'Lead a Better Life'." Since 2001, Scholastic Book Clubs ClassroomsCare literacy program has put more than 10 million books in the hands of kids. Visit the ClassroomsCare blog to see how your state is doing in the United We Read campaign.
Normally I would put information about a new blog in the Tools for Literacy Roundup, but since Picture Literacy is including a giveaway with their blog launch, it has become an event. If you haven't heard, Picture Literacy is offering Teachers and Librarians $1,000 in graphic novels via this contest. As part of the blog launch, if you follow @PictureLiteracy AND retweet their Aldo Zelnick tweets, you could win one of a set of Aldo Zelnick graphic novels: Artsy-Fartsy and Bogus. What I love is that you can only enter once a day – which means it won't take a lot of time! Picture Literacy is giving away five sets over the 15 days of the contest … which makes great odds for getting some new graphic novels for your dormant readers.
Programs and Research
Although summer isn't technically over, we are shifting gears toward fall. And with fall comes the ringing of the school bell and the third fresh start of the year. In her opening letter of the August 28 Big Fresh (Choice Literacy Newsletter), Brenda Powers shares a personal story about Green Eggs and Ham, a book that she "shared" with her sisters. "One of our favorite ways to taunt each other when we were growing up was to go through our library of children's books when no one else was around and cross off our siblings' names, writing our own name in pencil or crayon to claim possession." She goes on to talk about her time as a first-grade teacher watching new readers and their treasured possessions, and then goes on to ask this question:
What do you have in place in your classroom or school to allow students to own "the book" they love reading most?
Of course, we would add "home," too. With school back in session (or about to be) celebrating the occasion with a new, fun book may be just the thing to get your child excited (again)! You may also enjoy Dawn Little's recommendations in Motivating Readers, Again: Books About Reading. If you haven't been following her Motivating Readers series, it's not too late to catch up. [Trust me on that one!]
Anthony Rebora's article Neturalizing Students' Internalized Stereotypes in a recent edition of Teacher Magazine takes us to Grace Rubenstein's article about her research on how to change her students' perceptions of themselves at Edutopia. Neither item is about literacy or reading directly, but the discussion can easily be expanded to include that.
Thanks to @Life_Literacy for the results of a late-August International Literacy Day poll! It is interesting to read the poll results in contrast to the Canadian Council on Learning's new study: Taking Stock of Lifelong Learning in Canada (2005-2010): Progress or Complacency?
Timeless Literacy
This morning, Susan Stephenson of the Book Chook opened the September I Can Read! Carnival. This is a monthly meme created to celebrate and cheer on the newest readers among us. If you have a book suggestion (easy reader or short, illustrated chapter) or tip ideas Susan would love to include them in the carnival. Posts can date back to as far back as Spetember 2009! The Carnival is usually open for a few days, so you've got time to join us!
One of my favorite tweeters is the National Association for the Education of Young Children (@NAEYC). Yes, the tweets are short and sweet, but they also link to timeless stuff. Like this November 2008 Beyond the Journal article about reading aloud with kids. "The read-aloud has long been established as an important part of the development of children's literacy skills. But successful read-alouds don't just happen; they are the result of planning and careful attention to the details." Yep, timeless!
On that same note, Suite101.com has a nice article about how reading picture books makes reading fun for kids. I particularly liked Stacy Popke's ideas for extending the story by letting kids create their own characters. She also includes two book lists: Read Aloud Animal Picture Books for Young Kids and Whimsical Read Aloud Picture Books. (via @pavkahu)
In her guest post at Literacy and Lifelong Learning, Shauna C. Read shares her personal story about her journey to find a book that helped her love reading after all of the family's "favorite" books were mistaken for the "awful" books and tossed into the garbage. She reminds us that it is never too late to find a love of reading. "Cracking the code, for your children, or yourselves, can be tricky. The key is to keep looking, there's so much out there. There's this idea that it has to be the "right" kind of book. The right kind is the kind that you like."
This video is two years old, but I love how our narrator presents his book talks about "some of the books you should read, kids." He mentions one of my childhood favorites (The Cricket in Times Square by George Sullivan) . "and guess what? You should always read this book because its adventurous." Pay attention to the intonation it's adorable.
"Captain Jack Sparrow is trying to save his friend from a mermaid [big pause] … an evil one."