Children's Literacy & Reading News Roundup – Mid April
Hugs, prayers, and positive thoughts. We could all use a little more of those right now!
Carrie Jones wrote an incredibly powerful post about the after-events of the bombing at the Boston Marathon. I found it via Jen's post on Facebook. If you are trying to help children cope with tragedy, here is a list of resources that might help. [via School Library Journal's Extra Helping]
__________________
Welcome to the mid-April edition of the Children's Literacy and Reading News Roundup.  Jen Robinson's Book Page, The Family Bookshelf, and Quietly share in publishing this twice-monthly collection.
Children's Literacy & Reading-Related Events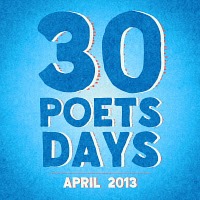 National Poetry Month is still going gangbusters! There are lots of activities.
Children's Book Week is right around the corner: May 13-16, 2013. This year, Grace Lin drew the commemorative bookmark, and Brian Selznick drew the commemorative poster.
The Children's Book Council (the sponsor) says that "Official Events will be hosted in a record-breaking 50 cities, along with innumerable Local Events." There is still time to order the poster. It costs you nothing more than the postage to deliver it to you.
Children's Literacy Programs and Research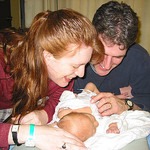 "The Powers of Talking to Your Baby" is an OpEd piece in last week's New York Times. Author and Times editorial writer Tina Rosenberg shares the story of Providence Reads, the first large-scale project based on 1995 research by Betty Hart and Todd Risley.Hart and Risley published their research in Meaningful Differences in the Everyday Experience of Young American Children. [image crdit: myfriendroxy on Flickr.com]

Jen pointed us to Gail Gauthier's post about Book Train, a literacy nonprofit that gives books to foster children. Currently, Book Train distributes books in Colorado and Connecticut, and is looking for social workers in other states to distribute books."

Those of us of a certain age, recognize that yellow-boxed magazine as the place to see the BEST pictures in the world. There was no "National Geographic for Kids," but National Geographic was a citation in many a middle-school and high school research paper.
Last week I received an ad announcing that National Geographic Kids has digitized those beloved magazines, and now kids can enjoy the wonderful imagery we held in our hands.
Lauren Barack has a neat article about a collaborative project between a 10th grade English iteacher and UC-Berkeley that brought gaming into the classroom to engage the kids in more descriptive writing. What I thought was particularly cool was that the teachers and 10th graders presented their project to the California Association of Teachers of English conference. [via SLJ Extra Helping]
Within the reading and literacy community, discussions of "Common Core Standards" are just about everwhere. Here are some recent articles that we found interesting:

Do you remember the Newspapers in Education (NIE) program? Back in the day, it was a BIG deal for journalists to visit our class. In an article for Echo Press, Tara Bitzan talks about NIE and her experiences working with kids. "They told me how they use newspapers to improve their reading skills and to find out what's going on in the community."
Scientific American recently had an article about changes in our "reading brain " in this modern age. The Reading Bran in Digital Age: the Science of Paper vs. Screens shares research in how our brain needs "physicality" in reading to help with comprehension, a sense of control, and other sensory development. It is fascinating research.
Suggestions for Growing Bookworms
In the most recent edition of The Big Fresh (Choice Literacy newsletter), Shari Frost explains how audio books can be used in literacy instruction. Among her examples are struggling independent readers and Kindergarteners, too. I was delighted to see that you can hear the incomparable Mem Fox reading her books, too.

Also via The Big Fresh, I discovered Wendy Lawrence's The Family that Reads Together blog. Wendy has a fun, fresh approach to book reviews, and you have to love the tagline: "a kidlit blog for parents."
Thanks for your interest in our ongoing efforts in promoting literacy by sharing our children's literacy and reading news and for so generously sharing it on social media.Be sure to stop by Jen Robinson's Book Page and Quietly in the next few days, as I'm sure both Jen and Carol will have some additional items to share.