Crayons Make Great Gifts, Too
Crayons?! you say? Yes, it's true. Crayons, markers, chalk – all offer endless possibilities for the lucky person who holds them. Plus, coloring and drawing are activities that can be done alone or shared. Today's post shares some gift ideas for artsy kids of all ages. 
Art supplies often pair very well with a "how-to" book. Susie Brooks' Get into Art series introduces kids to artists and famous works of art, while at the same time giving them the encouragement to try their hand at specific techniques, as well as experiment and be create their own projects.
Crayons and Creativity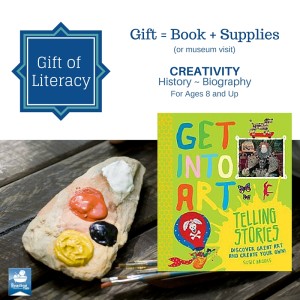 This collection of of recommendations focuses on books that engage readers with hands-on activities and exploration. Many of the links take you to the Reading Tub review for the book.
One Red Dot by David A Carter. A beautiful selection for those who love pop-up books and paper art.
Rabbityness by Jo Empson. One of the few storybooks on our list. Rabbityness celebrates art of all sorts, and offers a message of being the one and only you.
The Things a String Can Be by Julie Goulishere. Pair this with different lengths and colors of yarn or twine. Readers can "overlay" their strings with the pages or go off and create their own string art.
The CRANIUM Big Book of Outrageous Fun: The Write-it, Draw-it, Sculpt-it, Act-it Game-in-a-Book-in-a-Game by Baseman is a different kind of art book. It is a collection activities that are hands-on creative fun built for family game night.
See the Art ~ Meet the Artists
Share your own love of art by giving books that feature paintings and illustrations you love. Pair these books with an outing, such as a visit to an art museum or artist's studio to create an extra special gift.
Your turn …
Crayons are just one medium for connecting kids with creativity and drawing. Do you have any favorite books and/or art-themed gifts that you'd like to share? Add them to our comments and inspire other readers!
__________
Book title links go to Amazon.com. Purchases made through those links can earn donations for The Reading Tub, a family literacy 501(c)(3).
Image links in this post go to our Pinterest Boards. You can support The Reading Tub when you shop for gifts this holiday by visiting smile.amazon.com.