Crossing Generations: An Interview with Kathleen Cherry
Call it Crossing Generations or the Sandwich Generation. The idea is the same.With our parents living longer, there is more of a chance that our children will have longer, hopefully deeper, relationships with our parents.
They will also likely be old enough to remember the experience the aging and loss of their grandparents. Grief, crossing generations with us in the middle.
Kathleen Cherry is passionate about helping kids (and their parents) with a gentle, positive hand. As a school counselor, Kathleen Cherry deals with "hard" stuff everyday. It seems only natural that her first book tackles a tough subject for kids, too. In her debut title, Kathleen has created a family story centered around an aging patriarch.
Her first book, Blowing Bubbles, embodies a family's love and concern when Grandpa has a stroke. The depth of the relationship and how it is crossing generations is central to this very relevant story … and very topical, as you'll see in our interview.
Please welcome Kathleen to the Reading Tub.
Crossing Generations with Kathleen Cherry
Terry: Blowing Bubbles "looks like" a story about a boy and his grandfather, but it is really a story about family. Was it hard to create a story that spoke to all readers, not just boys and grandfathers?
Kathleen: I think it is hard to create a story which discusses a serious subject but is also engaging to children. No kid wants a lecture so I felt it imperative to ensure that Blowing Bubbles still had the necessary "fun" factor.
Terry: One of the things that struck me about the story is how deeply Josh (the grandson) is affected. As a school counselor, I'm sure you have met kids distraught over a major life change like Josh's. What are the kinds of things parents and caregivers can do to help kids in these situations?
Kathleen: This is a huge topic! The first thing to know is that talking about a difficult subject be it illness or death will not increase a child's fears. Here are some of my essential tips:
1. It is important to invite open discussion through open-ended questions. And avoid euphemisms. Telling your child that Grandma went to sleep and isn\'t going to wake up, might increase a child's fear of sleep.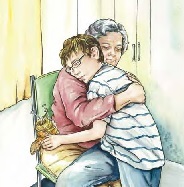 2. Use simple, direct language which is understandable to children. Be aware of "shoulds." There is no right or wrong way to react to traumatic news and it is important to accept your child's way of reacting.
Some children prefer not to talk and this should be respected. There are less verbal ways of being supportive. Perhaps you could draw or take a walk together. Accept and normalize their response.
3. Be aware of your own emotions. It is important to be honest about your emotions and express your own feelings. However, it is healthier to shield your child from overwhelming grief.
4. Tell the truth simply without unnecessary information or elaboration. The alternative – hiding information – can cause confusion and mistrust.
5. Reassure children that they are not to blame.
6. Find ways for the child to be involved, if possible and avoiding undue pressure. Being involved at the hospital or funeral can demystify events and provide closure.
7. Encourage the expression of feelings and grief in private ways like journaling or art.
Terry: Thank you for sharing your tips. You characterized helping kids (and parents) as a "huge topic." Have you thought about taking other aspects of the topic and writing books for children?
Kathleen: I have several more manuscripts aimed for the picture book and middle grade markets. One of my works in progress is Being Ben (working title). The story is set in British Columbia's beautiful Northwest. It is about a little boy with an older brother and, like many, younger siblings – he is just not big enough! Through the story, Ben has a great adventure and gains self-acceptance.
I also have a longer chapter book written from the perspective of a girl with high functioning Aspergers. Again, this is about self-acceptance and personal growth.
Terry: How exciting! As the mom of a child on the "high functioning" end of the Autism Spectrum, that book can't be published too soon! Let me come back to Blowing Bubbles. Having shared the book with children, I am guessing that you have some starter questions that can open a discussion. Could you share a few of those with our readers who may be looking for help in talking about aging and death with their kids?

Kathleen: I think the great thing about books is that you can keep it totally non-threatening. Start with chatting about going on a roller coaster or taking a boat ride. If it seems right, ask the child how he thinks Josh might be feeling at certain times.
One can also stop the action and brainstorm for possible solutions or actions which the character could take. One can then read and discuss the actual conclusion. The main thing is to be in-tune with the child and make sure that he is comfortable with the discussion.
Terry: In addition to being a writer, you describe yourself as a reader. Do you remember any of the books that helped create the bookworm that you are today?

Kathleen: I was always an avid reader and read everything from the Trixie Belden mysteries to the classics like Anne of Green Gables and Little Women. Different authors and themes have appealed at different times in my life but wanting and needing to have a book on the go is a constant.
As a parent and counselor, I have recognized the true art of the well-crafted picture book. Bernard Waber's Courage or Franklin in the Dark by Paulette Bourgeois have a wonderful simplicity and symmetry to them.
Terry: Thanks for joining us, Kathleen.
To read more of our interview with Kathleen, visit The Reading Tub. Learn more about Kathleen's other writing, her academic work, and her suggestions for books to read with kids about Alzheimer's Disease and dimentia.
Connect with Kathleen on her Goodreads author page. 
_____
CREDITS
– Blowing Bubbles Cover and interior images. Copyright Kathleen Cherry. Used with permission.
– This post contains affiliate links