Cybils Meet the Easy Reader/Early Chapter Panelists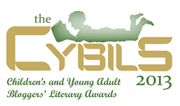 It's Cybils Time! I've said it before, but it is worth saying again:
I love the Childrens' and Young Adult Bloggers Literary Awards, aka Cybils.
We have a wonderful mix of authors, parents, educators, and librarians that should ensure thoughtful, impassioned discussion … exactly what you would expect in a group of people who have to pick the "best" of something!
So without further ado, let me introduce the Round 1 and Round 2 panelists for the 2013 Cybils. If you're not already subscribed to their blog or following them on Twitter, I highly recommend it.
CYBILS Round 1
This is the group who will read all of the nominated titles in our Cybils category and narrow them down to two lists. We'll select up to 5 titles in the Easy Reader group and up to 5 titles in the Early Chapter group.
Jennifer Wharton, Jean Little Library – http://jeanlittlelibrary.blogspot.com/

My name is Jennifer Wharton and I am the Youth Services Librarian of the Matheson Memorial Library in Elkhorn. I am responsible for programming, collection development, marketing, and outreach for ages 0 to 18 as well as providing reference and reader's advisory for children and adults. I specialize in programming for preschool through middle school and am passionately interested in helping children explore the world through books and experiential programs!
Lauura P. Salas, Lara Salas: Writing the World for Kids – http://www.laurasalas.com/blog/
@larapsalas

Hi! I'm primarily a kids' writer who loves to write poetry, nonfiction, picture book fiction, and–someday–easy readers and chapter books! I have 100+ books published in the educational market and several books for the trade (bookstore) market. They are BookSpeak! Poems About Books and Stampede! Poems to Celebrate the Wild Side of School, both with Clarion, and a rhyming nonfiction picture book from Millbrook Press called A Leaf Can Be…. A companion book, Water Can Be…, will come out in spring of 2014. I'm super excited that my books have received some lovely honors.*

Jodie Rodgriguez, Growing Book by Book – http://growingbookbybook.com
@growingbbb

My name is Jodie.  I have been an educator for 18 years.  I taught 1st, 2nd and 3rd grades for eight years.  I then moved into a variety of roles including Reading Specialist, Literacy Coach, Curriculum Coordinator, Federal Programs Coordinator and most recently Head of School.  I am a National Board Certified Teacher and hold two advanced degrees in education and administration.   I have also had the pleasure of teaching several teaching reading courses at a local university to education majors.  Currently, I'm staying at home with my youngest readers, my sons (2 1/2 years and 17 months).  Early Literacy is my passion and I hope to inspire you to cultivate readers in your life.
Diana Pettis, Finding the Right Book – http://www.findabookguidedreading.blogspot.com
@xavxandiana
My name is Diana.  I have been an educator for 11 years.  I have taught preschool, grades 3, 4, 5 reading classes, and Title I Literacy and Math.  I have moved into a new role this year as a Reading Specialist.  I also volunteer in my community and believe very strongly that schools need to have a partnership with families.  My greatest joy is turning a child onto reading by exposing them to varied genres and authors. 
Deb Nance, Readerbuzz – http://www.readerbuzz.blogspot.com
@DebNance

I read. That's what I love to do. But I am also crazy about my guitar, drawing, writing, puppets, traveling, baking, gardens, and walking….and let's not forget serendipity and paradox….
xx
Danyelle Leach, Bookshelves in the Cul-de-Sac – http://www.bookshelvesintheculdesac.blogspot.com/
Danyelle has loved books longer than her memory stretches. As a mother to seven children she has frequent opportunities and excuses to revisit old favorites and discover new ones as she shares her love of reading with her family.
xxx
Janssen Bradshaw, Everyday Reading – http://everyday-reading.com
@EverydayReading

Welcome! I'm Janssen – reader, cook, mama of girls, and lapsed elementary school librarian. In 2013, our family moved to North Carolina while my husband, Bart, attends Duke's MBA program. Although I miss Austin, TX, where we lived for 6 years, I'm excited about getting to know a new city and state. And as long as a place doesn't have freezing winters, it's pretty much okay in my book.
CYBILS Round 2
The five judges on the Easy Reader / Early Chapter Book panel have the job of taking each of the shortlists of five books and picking one winner. They will select the book that "combines the highest literary merit and kid appeal."
Travis Jonker, 100 Scope Notes – http://100scopenotes.com
@100scopenotes

Travis Jonker is an elementary school librarian in Michigan. He writes reviews (and the occasional article or two) for School Library Journal and is a member of the 2014 Caldecott committee.
On his Twitter profile, Travis describes himself as the "Highlighter of things serious and absurd in children's literature."
Freya Hooper, One Great Book – http://onegreatbook.blogspot.com
@onegreatbook

I'm a mom of three with a passion for kid's literature! No matter what book series our kids devour, as they come to an end, we as parents ask the inevitable question, "what's next?" I am ever on the job, trying to answer that question.
I try to do it with a variety of books. Some are silly, some true to life, some pure fantasy, but in the end I hope they make my children love words, explore new ideas, and laugh!
Sara Brown, Mrs. Brown Loves Bookworms – http://mrsbrownthebookworm.blogspot.com/
@EastTnbookworm

I became a librarian in 2000, I previously taught Seventh and Eighth grade Language Arts and Social Studies. Currently, I teach at a small K – 8 school where I am the librarian, webmaster, assistant testing coordinator, and our technology support teacher (and anything else that I get talked into!). When I'm not reading, I'm very active in our church, attend whatever sporting event my teenagers are currently playing, and occasionally have been know to dabble in gardening. The later has been neglected now that I have discovered blogging.
Alyson Beecher, Kid Lit Frenzy – www.kidlitfrenzy.com
@alybee930

Alyson Beecher is an educator, writing mentor, book geek, and blogger. I say that I have to read children's and YA literature because of my job but really I just love Picture Books, MG and YA books. During the day, I work with elementary students. My passion is getting my students excited about books, reading, and writing.  I also believe that it is critical to partner with teachers, librarians, authors, illustrators, booksellers, and publishers to support efforts to connect children and teens to books.  With that in mind, I have also co-founded the grassroots organization Bridge to Books with Alethea (@frootjoos, Read Now, Sleep Later).
Nicole Barnes, Daydream Reader – http://daydreamreader.com/
@DaydreamReader

My name is Niki Barnes. The title of my blog Daydream Reader comes from my love of Davy Jones from The Monkees and the song Daydream Believer. It also refers to my love for reading children's books. While I have never been a homecoming queen, I am a daydreamer. I am also a second grade teacher in West Michigan.  My passion is sharing books with my students. I created this blog to share with others my love of books and thoughts on teaching.