Cybils Awards v. The Walking Dead – a No Brainer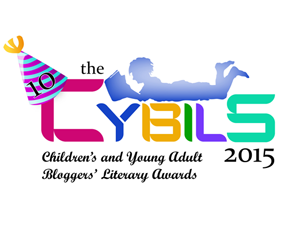 Why count the days until the The Walking Dead, when you could already be celebrating the launch of the 2015 Children's and Young Adult Bloggers' Literary Awards (@Cybils)?! See, I told you it was a no brainer!
This year, the Cybils Awards are celebrating its 10th Year! The 2015 Call for Judges opened on Monday, so while you're waiting for that show to start, head on over to the blog to learn more about the Cybils Awards and, think about applying as a judge.
Rather than repeat last year's post with my top three reasons why being part of the Cybils Awards rocks, I am going to ask you to consider three questions.
1. Do you read and blog about children's and/or YA adult books?
Books nominated for the Cybils Awards come from readers just like you, and we'll put out a call for nominations shortly.
BUT if books for kids and young adults are a staple in your reading and blogging diet, then why not share your knowledge with like-minded reviewers?
2. Do you love learning about new books?
As much as I read in a year (about 200 books), there are A-L-W-A-Y-S new books I discover through the Cybils process. Being a Cybils Panelist (Round 1) or Judge (Round 2) is a great way to grow as a reader. Whether you are into adding more titles to the TBR pile of your favorite genre, or are looking to stretch yourself more in a genre you don't review as often, there is no better resource than fellow panelists and judges.
This also applies to learning about new blogs. I always find wonderful new kidlit and YAlit blogs that I want to follow. Little known fact: Katie Fitzpatrick (@MrsKatieFitz) and I met through the Cybils Awards process when she was a panelist one of my first years as the Easy Reader / Short Chapter Chair. Now she's the chair!
3. Do you hate those long winter nights?
There is no better way to get through the ho-hums of winter than to curl up with a great book (or two or three!). Autumn can be a particularly busy time for some folks with re-establishing back-to-school routines, and the onslaught of holidays. I know those feelings. Come January you'll be looking for meaningful discussion and new books to read!
If you answer yes to these three questions, and you are passionate about helping connect kids with books that have literary value and are kid friendly, then you really don't want to miss out on this unique opportunity. Trust us, its a no brainer!
The Cybils Awards 2015