A Blogger's Must Have Tool for the 2016 Cybils
So last year, I kicked off Cybils blogging with some zombies. Not sure how to top the undead and stay apolitical, but I'll do my blogger best and start with a question:
Do you know where your library card is?*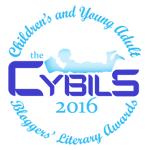 I hope so! It is a must-have for Cybils judges and any blogger who loves to read along when the nominations start rolling in beginning October 1.
Oh, you've never been a judge in the Children's and Young Adult Bloggers' Literary Awards? Then this is your year! We are looking for bloggers with new voices. Just. Like. Yours.  If you contribute regularly to a blog, podcast, or vlog about any aspect of children's or young adult literature, then consider yourself invited to apply. The very simple application is right here.
If you've been on a Cybils hiatus, have we got news for you! We have some shiny new categories … and what blogger among us doesn't like shiny new things? Check out our two new trial categories:
Board Books – its own part of the Fiction Picture Books category, chaired by yours truly.
With the growth of youth nonfiction, the Cybils is now expanding the existing nonfiction categories into two awards each.
Elementary Nonfiction will select a picture book winner, as well as an easy reader winner, under the tutelage of Jennifer Wharton, librarian and blogger at Jean Little Library.
YA Nonfiction will select winners for both middle grade and YA. Jennie Rothschild, who blogs at Biblio File, will be at the helm.
You can read more about all of this exciting stuff on the Cybils blog [and keep up to date by signing up for the newsletter!]
So in closing, fellow blogger …
If you write about your love of children's and young adult literature, have a passion for nonfiction or audiobooks (or middle grade fiction, or poetry, or picture books, or easy readers), or is one of the bloggers who encouraged us to consider board books, then come be part of something awesome.
You'll be glad you did!
** September is almost here and its Library Card Sign-up Month, so if you don't have a library card, well, you still have time to get one and test it out before nominations start on October 1.