Literacy + Life – Music Playlist
Welcome to the second edition of Literacy + Life, our blog series that shares family literacy activities as a way to promote literacy.
Want an easy way to bring literacy to the dinner table? Turn on a little music.
There are so many wonderful ways that music can contribute to literacy growth.
Lyrics help by adding to vocabulary, enjoying rhyme, or giving listeners a glimpse into a word's many meanings.
Melody can evoke a mood or spur imagination.
The myriad of genres introduce different sounds and sound combinations, instrumental and/or vocal.
Enjoy your meal together with some dinner music. The sky's the limit. Maybe you want to share some of your favorite songs; introduce new kinds of music; or bring to life music from books (musician biographies, music related to an historical period you're reading about). Dinner is a great time to enjoy the experience.
Family Literacy Activities – The Music Menu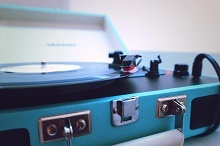 Listening to music is the spark, but conversation is important, too. Ask questions.
What kind of mood is the music trying to convey (emotion, imagination)?
If you could *see* the song in a movie, what kind of movie would it be (imagination, storytelling)?
How does the music make you feel (emotional connection)?
Does it remind you of someone (recall)?
Put together a playlist ahead of time so that when you sit down to your meal, you can just hit PLAY. That also gives you time to think about how you want to introduce your tunes. If you have information about the song or artist, share it. Maybe describe your "relationship" to the music. Is it the music you listened to in college?
Give your kids – especially middle school and high school students – a chance to create a playlist, too. If everyone has a turn, they're more likely to be interested in the idea AND you can make it a regular event.
When it is their turn to be the DJ, let your kids take the lead on sharing why they picked the songs and ask questions. An added bonus: they might do some research. Reading AND critical thinking. Rock on!
Inspiration List
We don't need craft supplies, but we might want some starter ideas for tuning into our musical family literacy activities. The sky truly is the limit. There is no requirement to tie the music to books, but if that's of interest, here are a few ways to build family literacy activities around them:
Ask your local librarian to recommend books about music genres, instruments, or musicians.
Talk with your kids about what they're studying in history. Select music that would have been popular in that time period.
Look at what you're reading – is the book set in a specific time period? Select music that might fit.
We've got a broad collection of books that we've reviewed in the Reading Tub, as well. Here are some of our favorites.
Punk Farm by Jarrett J Krosoczka
(creating music)
When you click the book titles, we'll take you to the full review on The Reading Tub website. When you're there, you have the option to find the books at your local library.
When you click the book cover, we'll take you to Amazon.com. Should you buy through Amazon – and it's not endorsed – we can earn money to fund our literacy mission.
Your Turn
We'd love to hear your suggestions on ways of incorporating music into family literacy activities. Whether you have a favorite book or activity, or if you have a blog post on the topic, be sure to add it in the comments.