Family Matters: An interview with children's author Susan Fayad
When you read the back cover of Susan Daniel Fayad's debut picture book, there is no doubt: family matters. In My Grandfather's Masbaha Susan draws on and weaves her family and cultural experiences into a universal story.
Family matters all year long, but during the holiday season, we tend to place a little more emphasis on spending time together and showing our appreciation for one another.
Susan is a Lebanese American born and raised in the United States. She completed her undergraduate studies in Psychology and Special Education at the American University of Beirut, Lebanon. After graduating, she taught primary grades at an international charter school.
Recently I had the chance to interview Susan to talk about her new picture book and what literacy and family mean to her. She is a voice for girls' education, and you can read about her work in more of our interview at The Reading Tub.
Family Matters: An Interview with Susan Fayad
Terry: Welcome to the Reading Tub, Susan! December seems like the perfect time to talk about your new book, My Grandfather's Masbaha! This is a very personal story for you, as it includes your father and son as characters. Yet it also has very universal appeal. What is it that you hope young readers will gain from the story? 
Susan: Thanks for having me, Terry, I am excited to be here. To answer your question, I want kids – and parents – to know that despite the fact that they think that they can have more "things," if they have family and friends that love them, than those "things" shouldn't matter so much.
Terry: What are your goals for My Grandfather's Masbaha with readers? Are there specific things you point out for children and families to help them connect to the story (or connect to their lives)?
Susan:I want readers to see that although Arab and Western cultures are different, we have things in common. Gratitude, family, and finding meaning in the smallest things are a significant part of humanity. They are especially appreciated during the holidays and times when we gather with our loved ones.
Terry: My daughter and I were fascinated by the masbaha (maz ba ha), particularly as it relates to the abacus. We always thought of the abacus as a math tool, does it have a cultural/religious history, too? 


Susan: It is fitting for the masbaha to be likened to an abacus because both originate from the Mesopotamian region – the Middle East today. Both also are tools for counting. In the Arab World, both Christians and Muslims use the masbaha.
For Christians the masbaha with the 33 beads is their rosary. For Muslims, the masbaha was used to track prayers and the 99 names for Allah. This can be done using the 33 beads, which they go around 3 times, or the 66-bead masbaha, or the traditional 99 bead masbaha.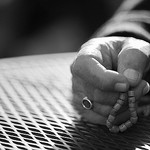 As I explain in the book, the masbaha is also a way to keep idle hands busy. When you go to someone's home you will often find the men of the house with a masbaha in hand, sliding the beads one by one. And when men are having conversations with each other, they will use the masbaha to count to prove a point.
Moreover, the masbaha is a beautiful adornment in homes, you will find them in all sizes, colors, even different forms of beads.
Terry: I laughed out loud at Adam's declaration about having "nothing" [no friends, no toys, nothing to do]. Parents around the world will nod their head when they read that! How can we help our kids see things more clearly – just as Jidoo and the masbaha?
Susan: That's a good question and not an easy answer. My son still does the same thing when he feels like he needs more of something – play, attention, toys, etc. I still keep reminding him of how much he does have. Still the frustration persists.
Terry: One of the things on my bucket list is to broaden my own understanding of how reading and literacy are viewed in other parts of the world. I was fortunate to chat with Mitali Perkins, Hannah Ehrlich and Tanita Davis as part of a panel about the culture of reading of reading. Could you share your perspective on how Arab cultures view literacy?
Susan: What a great discussion! There are some great insights there.
From what I have seen, literacy is a means to an end in the Arab World. While education is important and great strides are being taken in terms of girls' education in particular, in a majority of Arab countries, there is much more to be done.
The level of education of schools is very high and students are required to read and memorize and recite a great deal of information. However, you will not see many people curled up with a good book or reading to their children before they go to sleep. The aural tradition is still great in Arab culture. Parents will "tell" their children stories rather than read. It is a work in progress.
Terry: Could you elaborate more on what kinds of stories they tell? Are they personal family stories, fictional/fantasy works?
Susan: Growing up, my parents and grandmother would tell me the same stories that we are familiar with like Little Red Riding Hood. And there are the traditional Arab folk tales and rhymes.
Terry: What did literacy look like for you?
Susan: Before the age of 11, most of my time other than school and activities, was spent in my parents' candy stores. By the time I got home, it was late and there wasn't much time for reading.
As soon as I started reading well, my father would have me read to him articles from the New York Times and we would discuss them. That was the start of my interest in social affairs. Once a week, my mother and I would walk to the local branch of the New York Public Library and I would take out a stack of books.

I really started enjoying to read in the summer of 4th grade. My favorite stories were ones that took me to a different place – The Lion, the Witch, and the Wardrobe by C.S. Lewis, Charlie and the Chocolate Factory by Roald Dahl, The Wonderful Wizard of Oz and its sequel stories by Frank Baum, and Harriet the Spy by Louise Fitzhugh.
Terry: I am so envious of your being able to walk to the New York Public Library every week. That alone sounds so magical, to me! Thanks for spending time with us, Susan.  
To read more of our interview with Susan, please visit The Reading Tub. Also Connect with Susan on Facebook:  https://www.facebook.com/grmasbaha
_____
– Image credits: Flickr.com/creativecommons
– This post contains affiliate links.