Yes, Foodie literacy. For the next several weeks we're going to take a break from our usual Throwback Thursday Book Review schedule to focus on sharing gift ideas with a literacy twist. These are featured selections from our Gift of Literacy board on Pinterest.
The heart of the home is the kitchen, and it is a great place to sneak in a little literacy. Whether you're the foodie or your kids love to cook, there are lots of options for you. The most important ingredient is sharing the experience together.
Do-at-Home Foodie Ideas
At its heart, Thanksgiving is about family, creating memories, and of course great food! With that in mind, our theme this week offers foodie ideas with a literacy (and math) side. Here are some ideas.
Create a restaurant-style menu. The sky's the limit on style and medium:
Crayon drawings,
a whiteboard on an easel,
hand printed, copied and rolled in a scroll,
typed and read aloud by the chef(s) …
Here are a few more suggestions that build on tradition.
Pull out a favorite family recipe, share your story about why you love it and how it became a tradition, then make it together.
Grab a cookbook (or two or three) and find a recipe you'd like to make.
Together, write out the ingredient lists, go through what you have, then make plans to shop for the rest of the ingredients to make your new recipe.
Literacy Gift Ideas for the Foodie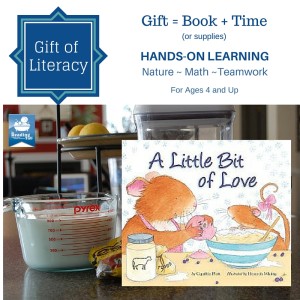 Books make great gifts in and of themselves, but there are times when we want to pair it with something else.
Try these pairs for starters!
A youth cookbook paired with a starter kitchen set of measuring cups & spoons.
A story book that features a recipe in the back paired with the ingredients or an apron.
A book that features your foodie's favorite food, paired with …
starter set of equipment;
a personalized apron;
seeds to grow an ingredient;
food journal.
One of our favorite suggestions is to pair the book with an experience that comes a little bit later. It could be visiting a farm to learn about the origin and processing of specific ingredients; visiting a farmer's market to buy some of the ingredients; or going to a restaurant that features that type of cuisine.
Share your ideas in the comments!
What are your favorite ways to stir up literacy in the kitchen?
Do you have a favorite foodie-ish book for kids?
Links in this post go to our Pinterest Boards. You can support The Reading Tub when you shop for gifts this holiday by visiting smile.amazon.com.