Fun with Words – Reading with Kids
In our first collection of Reading with Kids ideas, we shared our suggestions for books with sounds we love. From animal voices to transportation sounds, we have a little bit of everything.
Today it is all about having fun with words. Silly words. Made-up words Words that sound like you have marbles in your mouth. Words that are tongue twisters all by themselves.
The best part? When you're having fun with words, there is no right or wrong pronunciation. The sillier the better. Who knows, you and your kids may even coin your own new word!
Rhyming words are another way to have fun with words. We love books in rhyme, and this collection has a few of those, too. Just not with the usual vocabulary.
Fun with Words – Just 4 U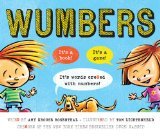 Wumbers
by Amy Kraus Rosenthal; illustrated by Tom Lichtenheld
Chronicle Books, 2012
Letter + Number words are not just for custom license plates .. or texting! They are gr8 fun in picture books, too.
Pick Wumbers (or CDB! by William Steig) for your word-loving curious reader. The word + number combinations let the young readers use big, multi-syllable words that they wouldn't know how to decipher otherwise. Bonus: Even more developed readers (the ones who think they're "too old" for picture books) will spend some time laughing when they see the guy with the tat2s.
more word +  number ideas @ The Reading Tub
__________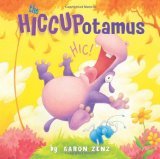 The Hiccupotamus
written and illustrated by Aaron Zenz
Two Lions, 2009
What do you do when you hiccups get in the way of spending time with your friends? And what do your friends do to help get rid of your hiccups? And what happens when there is a hiccup in your plans?
Action-filled illustrations beg you to read the story out loud, and silly rhymes make you glad you did. There are plenty of made-up words, and as one mom told us "I thought the made-up words would trip up my third grader. She quickly parsed them and then rebuilt them. This turned out to be a great exercise in making language work."
more mixed-up word fun @ The Reading Tub
__________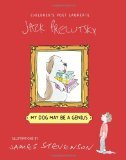 My Dog May Be a Genius
written by Jack Prelutsky; illustrated by James Stevenson
Greenwillow Books, 2008
Poetry comes in all shapes and sizes. There are funny words, made up words, picture words, and silly stories that focus on anything and everything kids love to talk and think about.
Anthologies (collections of stories and/or poems) are a great choice when you want a book with choices. There is rarely a specified order, so kids can pick and read (or have you read) whatever tickles their funny bone.
more wordplay fun @ The Reading Tub
Your Turn
What books are in your fun with words collection? Got a favorite silly or made-up word … we'd love to hear it!