Gardens Grow Readers – More Gift Ideas
This may be the time when we "winterize" our gardens, but that doesn't mean we have to put away our love for gardening! Besides, not all gardens grow outdoors … which leads me to our theme du'jour for literacy gift ideas for kids.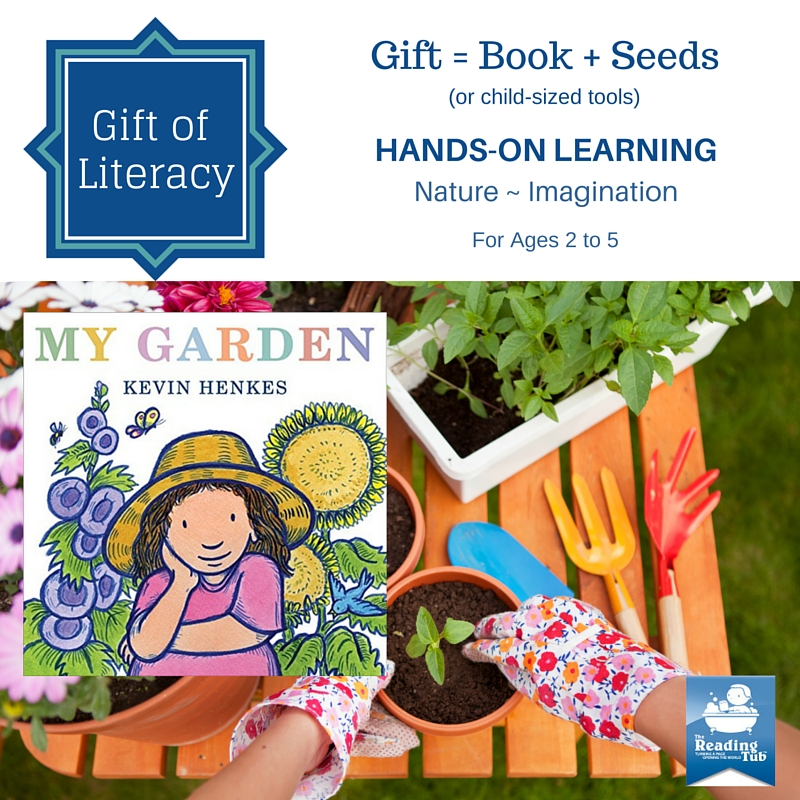 Gardens are gifts that Grow!
For kids who like to play in the dirt, gardening is a wonderful activity. There are so many directions that you can go when you pair a garden-y book with an activity. From science to sociology (and even patience), there is lots of learning packed in your gift! Here are some gift idea pairs that are sure to …
Pair your selected book with a kid-friendly gardening kit.
For teens and young adults who love the art of gardening, check out these coloring books.
Pair a coloring book with tickets to a botanical garden or visit to a farmer's market.
Make plans to visit a farmer's market, food cooperative, or farm to learn about gardens on a grand scale.
Sign up for and take a class together: how to make a terrarium, winter nature hikes, wreath-making, et al.
Bring The Secret Garden to life by giving the book with performance tickets or the soundtrack.
Here are some other books about gardens / gardening that pair well with activity-related gifts.
In thinking about the last book suggestion … a book and activity can be a nice gift for a grandparent, too, as it gives them the chance to share their knowledge and also get some together time with their grandchildren.
_____
These gift pairing suggestions, as well as our Read it & Keep series, can be found on our Gift of Literacy Pinterest board. Visit us on Pinterest to discover books and creative literacy recommendations for every audience from infant to teen. There are plenty of recommendations like Ivy and Bean on our Books Make the Best Gifts and Series for New Readers boards, as well.
Book title links go to The Reading Tub website reviews. The Gift of Literacy image links to our Pinterest Boards.
You can also support The Reading Tub when you shop for gifts this holiday by visiting smile.amazon.com.