Get Organized: A Look at 2015 and a Lean into 2016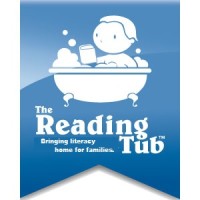 January is National Get Organized Month. Seems like a no brainer: out with the old, in with the new. New year, new ideas … you get the picture.
Before I can get organized and set new goals, I usually need to stop and look back. Where are we? How did we get here? and (most importantly) What's next?
2015 was an amazing year for the Reading Tub. So before I talk about what's next, let me share where we are.
Book Donations
Truth be told, for most of 2015, my office was overrun by books that had been read and/or reviewed, and were waiting to find the right home. In November, we found them.
We delivered 660 board books, picture books, and easy readers to the ReadySteps team at ReadyKids Charlottesville. They'll be drawing from this new mini-library not only to provide books to children in under-served communities, but working directly with families on how to use the books for other learning activities, as well.
Our other major recipient was a public middle school serving students who read below and well-below grade level. We had the students submit topics of interest, and then we scanned the shelves for books in those genres. This was a unique – and challenging – request, as the school needed such a broad range of reading levels, but we did not have the data to match reading level with genre interest. The school received a collection of 35 brand new picture and early chapter books; graphic novels; and middle grade and young adult novels.
Bottom line: In 2015, we donated more than $8,500 books to readers in need and their families.
What's Next for Book Donations in 2016?
This week I am going to get organized on a project for our military. We had a request for books that deployed service members can read with their children. My goal is to send 200 NEW books. If you are interested in supporting this project, please contact me at thereadingtub [at] gmail [dot] com.
We have almost a dozen boxes of middle grade and young adult books that need to placed with at-risk readers.
Book Reviews
In 2015, the Reading Tub logged more than 3,000 hours of volunteer service. As it has for more than 10 years, Be the Star You Are Teen Review Team sent us LOTS of reviews for middle grade and young adult books. Fifty-seven, to be exact. We welcomed several new reviewing families and a high school reviewer, who collectively added 100 reviews to our site.
As I noted in my year-end newsletter, our goal was to publish 300 reviews. We finished the year with 287. That is a Reading Tub record. The previous high was 252 books.
What's Next in Book Reviews for 2016?
Quite a few of my book reviews published last year were books from my TBR pile. Some had been read in early 2014, but the reviews got waylaid. That meant a lot of time re-reading books to remember plot and character, and refresh my memory on why I put a post-it on a certain page. That was not a lot of fun.
So as I get organized with book reviews for 2016, I plan to (a) take better notes as I read; and (b) draft – if not publish – a review within two weeks of finishing a book. So far, so good!
That 300 book-reviews-in-a-year milestone is still out there. My sights are set on that, as well.
Family Literacy Integration Project (FLIP)
In our 12 years of existence, the Reading Tub had never undertaken project-specific fundraising. We rely very heavily on affiliate income and pride ourselves on using all donations to support literacy work, not overhead (like office supplies, web hosting, etc.)
I am THRILLED to report that thanks to your generosity, the Family Literacy Integration Project is nearly fully funded. Through three crowd-funding efforts, we raised $6,930. Just $570 shy of the $7,500 needed to move FLIP from the drawing board to the code room. Donations are more than welcome.
What's Next for FLIP in 2016?
We are getting ready to move forward with Phase 1 of this project: design and organization. Very, very exciting.
Our hope is to implement FLIP in 2016, and I will continue the fundraising effort.
GETTING SOCIAL
Last but not least is a look at how we did vis-a-vis curating and sharing literacy and reading ideas. I'd give us a C-minus. We did a lot to improve our Pinterest boards, but we fell way off on blog reading. As for Twitter, it was a pretty uneven year. And the newsletter – an F.
What's Next for Getting Social in 2016?
We have lots of work ahead of us. The good news is there is nowhere to go but up. Over the next two months I want to get back into the habit of scheduling "social" time and reading more blogs. By spring I hope to get a regular newsletter going.
How are you going to get organized this year?