Going to the Clouds – Literacy + Life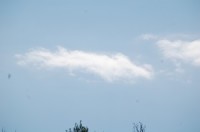 With summer (unofficially) behind us, the days ahead will bring beautiful blue skies and lots of wispy clouds!
Clouds are the perfect canvas for literacy activities.
They're free to look at any time you want!
They put imagination to work.
Cloud gazing can inspire stories.
It is a family-friendly activity everyone can play.
Literacy In the Clouds
When you "transform" a cloud into something concrete is a critical thinking skill. You are using your brain to connect the cloud to something your brain already recognizes. Not all that dissimilar to learning letters and putting them into words.
Here are three, go-anywhere activities that send your literacy activities to the clouds!
I Spy a Cloud …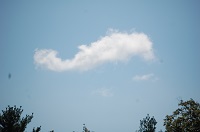 Have you ever looked at the sky and said "those clouds look like [insert object here]?" Me, too. It is a game we often play in the car (from the passenger side!). Here are some other ways to get your I Spy a Cloud game started:
Plan a backyard picnic. Grab a blanket and some snacks, then lay back and scan the sky for clouds.
Head for the hills or another open area with plenty of horizon.  Incorporate cloud-gazing into those rest-stop conversation as you walk, hike, or bike.
Story Clouds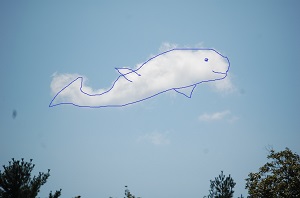 The one thing about clouds is they don't keep the same shape for very long. What was a dolphin can morph into what looks like an alligator or a mushroom or an alien blob.
In addition to "naming" the various changes, invite each cloud gazer to create a story around that transformation sequence or a collection of clouds close together.
Another alternative would be to give a living creature a name and use that as the basis of a story, regardless of what else is happening in the sky.
Cloud Photography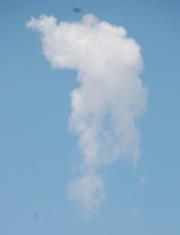 Creating a collection of cloud pictures can double the fun and create more permanent memories. Use your phone's camera to take pictures of cloud shapes when you're on a walk or while watching soccer practice! Pull them out on a rainy day to play I Spy a Cloud or as a writing prompt for creating stories.
Those images can also be drawing canvases. I used Microsoft Paint to add the dolphin outline to the clouds in the pictures above. I also had fun playing with Fresh Paint (Microsoft App) to create images with different textures, as well as draw on the images as a canvas.
You don't have to be the only photographer! If your teen is like mine, they love any excuse to take pictures! Incorporating cloud photography part of a family activity is a fun way to get everyone involved.
Your Turn
What are your ideas for using our natural surroundings as canvases for family literacy activities?