Hands-on Reading: Playing with Books
Kids like to touch stuff. They like to play with stuff. So why not incorporate hands-on reading into story time? This past spring, Chronicle Books sent us several of the books in their Busy Baby series.  We shared them with our reviewing families to read them their kids.
There is hands-on reading on every page of these sturdy board books. The face you see is a wooden circle painted happy on one side, and sad on the other. We don't yet have the review for Busy Baby: Friends
; but Busy Baby: Trucks
was a huge hit.
Both children (ages 2 and 4) loved this book and loved turning the baby's head back and forth. I loved the pictures in this book; it was different than any book that I have seen. Simple but good. It offered a lot. Fun pictures will engage vehicle lovers, problem solvers, and wiggly toddlers.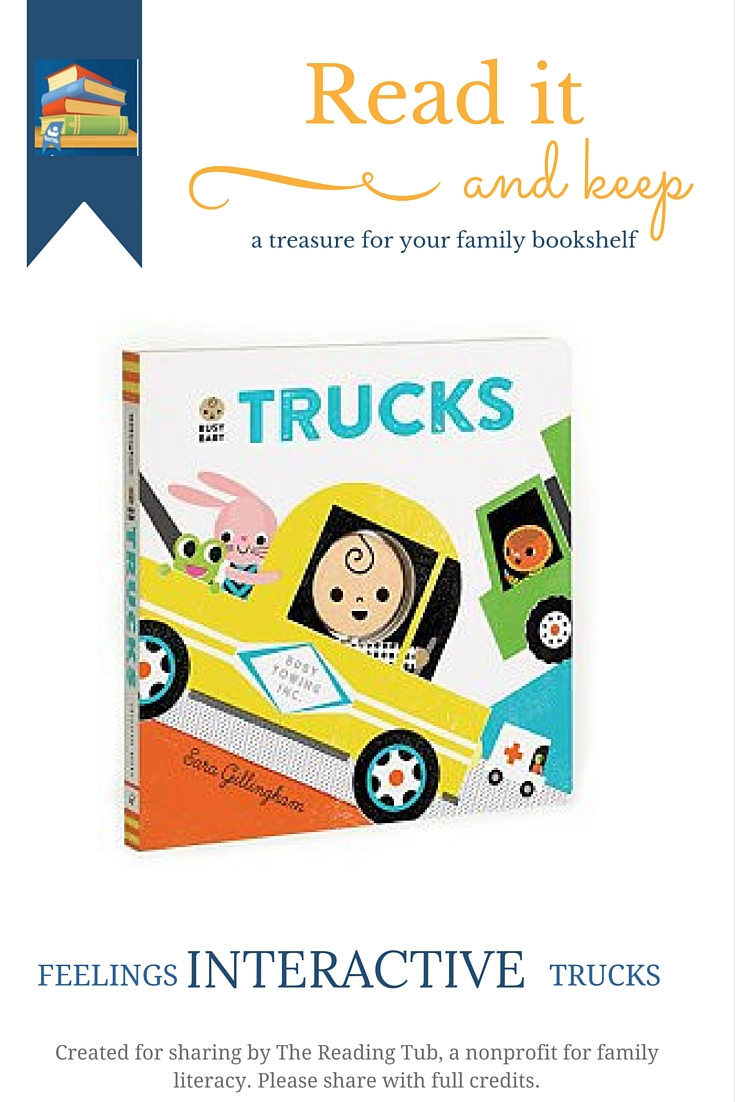 Why Hands-on Reading?
In addition to giving wiggly toddlers something to do, books that offer hands-on activities can help with fine motor skills.  What set the Busy Baby series apart for us, though, was the different layers to the book. It's not just a "discovery book" where you lift the flap, but one where children can learn opposites and emotions, as well.
Here are some other things to look for when searching for books with a high "play" factor.
Sturdiness. These are books that need to be able to take the wear-and-tear of hands-on reading and playing.
Ditto for any moving parts. Be alert for elements or pieces that can rip, tear, be separated, and/or swallowed.
Size. Books for hands-on activities need to be sized for the hands who will use them.
Simplicity. Ornate illustrations will overwhelm a hands-on reader. Most of the time, they'll know what to do just by looking at the picture.
Brevity. Eight to ten events / activities is more than enough for most readers.
Do your toddlers and preschoolers have a favorite book they love to play with? Tell us about it in the comments. That way other readers can know about it, too.
__________
This Read It and Keep selection is part of our Gift of Literacy Pinterest board. There are additional recommendations on our Books Make the Best Gifts and Bookshelf Worthy Books for Your Home Library boards, as well.
We are taking a break from our Throwback Thursday Book Review schedule to focus on sharing gift ideas with a literacy twist. These are featured selections from our Gift of Literacy board on Pinterest.
Image links in this post go to our Pinterest Boards. Book title links go to Amazon.com. The Reading Tub has an affiliate relationship with Amazon.com and can earn money on any purchases made through those links. 100% of any affiliate money is used to support The Reading Tub, a 501(c)(3) charity.
You can support The Reading Tub when you shop for gifts this holiday by visiting smile.amazon.com.