Holiday Shopping: Time to Unplug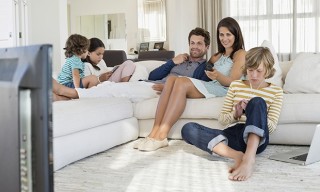 I have been thinking a lot about the impact of screens on children lately. From sleep and screen-addiction issues to motor skills and the ability to recognize emotions in others.
It started when Carol Rasco shared an Education News story about a bedtime math story app. Most recently, it was the new Common Sense Media study about media use by tweens and teens.
These aren't the only ones, though. Here is a sampling of what I've been reading. [Image Source: The Guardian, 2013, ONOKY/Photononstop/Alamy]
Lots to think about, a lot rattling around in my brain … especially now, as many of us are gearing up for holiday shopping. This year, rather than opting for an iTunes gift card, a new video game, or even a screen-based educational product, let's go screen free.
Can we make 2015 the No Batteries Required Holiday Shopping Season?
To help you with that goal, we've published a Gift of Literacy Pinterest board, and put together a list of holiday shopping tips and suggestions (below). These are gift ideas that offer great alternatives to the electronic babysitter. I bet you'll find it easier than waiting for your phone to power up!
START HERE
I know what you're thinking, it is a lot easier to find a batteries-free gift for a third grader than an eight grader. Maybe, maybe not.
With younger kids, we tend to look at the kinds of things they like. It is pretty concrete: dinosaurs, superheroes, animals, et al.
With tweens and teens, our default answer is "they like their screen." Yes, yes they do. So, one question isn't enough.
We have to ask a second question: what do they like to DO with their screen time? Answer that and Poof! You have a gift idea.
HOLIDAY SHOPPING UNPLUGGED
Toddlers and Preschoolers (18 months to 4 years)
Think hands on, creative play and gifts that push their imaginations.
Elementary and Preteens (5 years to 12 years)
Hands on, creative gifts still work! Tap into the things a child likes and pull gift ideas from those interests.
Teens (13 to 19)
Time to get creative. Kits, experiences, and subscriptions are options. We're probably fighting serious tech use, so we're going to switch to the "Read Alike" model for teen holiday shopping ideas.
If they like …
Still stuck for holiday shopping ideas?
Add a comment below to get ideas from other readers; or send me an email thereadingtub [at] gmail [dot] com and I'm happy to brainstorm with you!
The Bibliography
NOTE: Our Holiday Shopping links go to Amazon.com. We have an affiliate relationship with Amazon.com and use 100% of funds that might be generated from purchases to support The Reading Tub, a 501(c)(3) family literacy charity.