Need a Unique, budget-friendly gift? Think Journals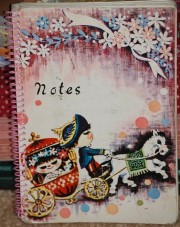 The summer I turned eight, my family camped our way across the United States from Baltimore, Maryland, to Monmouth, Oregon. Just before we left, my mom gave me a small, spiral-bound notebook for memorializing our trip. That little notebook (that cute little notebook to the left over there) launched a lifelong love of writing.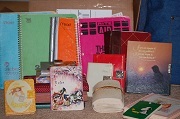 From the mundane to the sublime its all there in my nearly 20 year collection of little diaries with keys, fancy journals (including Papyrus journal that was a wedding present from Bill), and college-ruled spiral notebooks! They're not worthy of a memoir, for sure, but they remember moments long ago forgotten, and in the times that I spent writing, they were comfort and refuge, joy and elation.
Having a journal is like having a best friend who is always there, always listens, and never judges.
So why the trip down Memory Lane? Because journals make a great gift! They are personal items that the recipient can completely personalize. If you're stuck for a unique gift, then consider notebook or journals. Pair it with a nice pen and you've got a wonderful gift for less than $25.
Hard-to-buy-for teen? Check.
Fourth grader with a big imagination and lots of stories to tell? Check.
High school student who doodles all over their notebooks? Check.
If they imagine it or think about it, a journal is a great place to save it.
What I like about the two journals below is that they offer guided journaling. Some of us are intimidated by nothing but a blank canvas. With these journals, you have the best of both worlds. There is plenty of space for free-form entries, whether narrative or illustrated. Yet these two journals also have "writing prompts" that can spark a memory or launch some thoughtful reflection.
Gift-worthy Journals
Fireflies – A Writer's Notebook
by Coleen Murtagh Paratore
Hardbound, $12.95
The fireflies that SPARK for you, SPARK for you and you alone No one else can see them. Only you can catch them. How do you catch them? Write them down! … Are you ready to open your firefly jar? ~ Coleen Murtagh Paratore
Connect the Thoughts: Dot Your Life, Free Your Mind
by Eloise Leigh and Taylor Norman
paperback, $12.95
This journal is for you to … connect all your thoughts in one place. It is set up so you can connect your thoughts however you want. You can connect thoughts in writing. You can connect thoughts in sketches, you can connect thoughts in glue or spackle or glitter or highliter or graphs. (if you want).
Both of these journals are wonderful choices for children, (hard-to-buy-for) teens, and adults, too.
Yes, Fireflies might appeal more to girls by looking at the cover, but you're selling it short if you only think of girls.
Connect the Thoughts is a unique, fun format that will appeal to everyone and work for elementary-aged children, too. The journal is color-organized into categories that will appeal to everyone: family, friend, music, dreams, travel, and more.