Ha! Ha! Laugh Out Loud Books for Reading with Kids
It has been a while since we've added to our Reading with Kids series … too long. In our first post, we shared our  favorite books with sounds. These are the books where the words are sounds. In the second post, we had fun with words. These are the stories with silly words. Made-up words Words that sound like you have marbles in your mouth. 
Keeping with the idea that reading with kids is pure fun, we've pulled out some of our favorite books that make you laugh out loud … and read them again and again.
Laugh Out Loud Books for Kids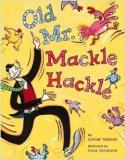 Old Mr. Mackle Hackle
written by Gunar Madsen; illustrated by Irana Sheperd
Little, Brown and Company, 2005
Mr. Mackle Hackle has a problem. His hen won't cackle. Try as he might, the old bird won't respond the way he wishes. Even the chicken jokes aren't working!
Fans of books with the musicality of Dr. Seuss will laugh out loud for years to come with Old Mr. Hackle Mackle.
More Barnyard Hilarity @ The Reading Tub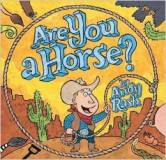 Are You a Horse?
written and illustrated by Andy Rash
Arthur A. Levine Books, 2009
Roy gets a saddle for his birthday and goes in search of a horse. He has never seen a horse, so he goes on a search. He meets a snake, a crab, a pig, and even a zebra. 
A snake as a horse? Instant laughter! This is more than just a blast to read and re-read. It helps kids with critical thinking, too.
More Mistaken Identity @ The Reading Tub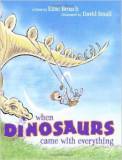 When Dinosaurs Came with Everything
written by Elise Broach; illustrated by David Small
Atheneum Books for Young Readers, 2007
Errands with mom are N-E-V-E-R fun. Until today. Today, they get a dinosaurs at each and every stop – for FREE! Cool! Our young boy wonders how many dinosaurs can live at his house? what will they eat?
Dinosaurs as pets. Does a fantasy get any funnier than that? The illustrations have as many laugh out loud moments as the text.
More Bigger than Life Fun @ The Reading Tub
Your Turn
What are the books that offer non-stop laughter at your house? Laughter and enjoying a good story … that's what reading with kids is all about!
Be sure to share your favorite laugh out loud books in the comments.