Literacy Lalapalooza 10 – Keep Summer Fun Alive
August already?! I don't know about you, but I'm not ready for summer fun to end!
Welcome to our 10th Literacy Lalapalooza! Each month since November 2012, we have been celebrating the Reading Tub's 10th Anniversary. Our goal is to offer simple ways to integrate literacy into everyday activities or moments, as well as some reading ideas. Each edition of the Lalapalooza  has ONE idea for literacy and reading; TWO tools or resource suggestions, and THREE book recommendations (one for each reading age).
There is newsletter edition, too! So DOUBLE the creative literacy ideas and sign up today. Subscribers already got their email with a completely unique set of summer fun recommendations with a literacy twist. If you didn't get it, don't worry, just send me an email and I'll be happy to send it to you.
Summer fun is for everyone, so we hope you share the gifts of literacy not just with your kids, but other families, too.
1 Literacy Idea: Grab the Cookie Pan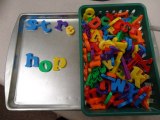 This is an idea I got straight from the literacy hen herself! Susan Stephenson, aka the Book Chook, used this when she with her son (way back when). So when you're packing the car for your vacation, be sure to include a cookie pan (one for each child) and some magnets.
Younger kids can have fun with magnetic letters, let older kids play with one of those poetry kits. The fun might be enough to delay the chorus of Are we there yet? from the backseat. [Image Credit: MI Teaching Blog]
2 Literacy Tools / Resource Suggestions for Summer Fun
I recently discovered two wonderful resources that let the kids "play" but also start nudging them toward the school days ahead.
I am an unabashed fan of Google+ and I love the Communities concept. I was tickled when I found the

Book Club for Kids

started by Mia Wenjen (who blogs at

Pragmatic Mom

). This is a community built for sharing "book extensions," like craft activities, as well as book ideas and recommendations (like audio books for your upcoming road trip).

Have you discovered Reading Confetti? It is a blog with "fun and simple activities to create life long readers. I discovered them on Twitter (@readingconfetti) and am hooked on the blog!
3 Books Recommendations
The Dog Days of August is not all doom and gloom … there is still plenty of room for summer fun! Next week is National Smile Week! You can do something special on August 12, when we celebrate Middle Child's Day. On August 16 it's National Tell a Joke Day;  on the 18th it is  Bad Poetry Day; then on the 30th, enjoy  Toasted Marshmallow Day. Plenty of options for extending summer fun!
Infant to Preschool Audience (ages newborn to 4)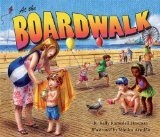 At the Boardwalk 
written by Kelly Ramsdell Fineman and illustrated by Monica Armino
Tiger Tales, 2012
So much happens on the boardwalk. Through word and illustration, discover all the activities and things you can do on the boardwalk. This is an easy reader picture book about a day at the beach.
"Family together time, humor, and plenty of visual cues will make this a fun read for kids getting ready to go to the beach. There is a lot kids will want to explore in the illustrations well after you've finished reading the two stanzas." Read the full Reading Tub review.
Emerging & Developing Readers (ages 5 to 9)

The Dragon's Teeth (Greek Beasts and Heroes)
written by Lucy Coats and illustrated by Anthony Lewis
Orion Children's Books, 2010
These nine short stories introduce the reader to how Greek gods and heroes came to be, as well as stories about individual gods, goddesses, mythic creatures, and great feats by humans. This is an illustrated chapter book for transitional readers.

"This slim selection of classic myths will engage readers of all types. The stories are action-packed and the illustrations (in color!) are well done. The author explains up front that you can read them in any order, which is always good for picky readers. This is a book for children reading (or ready to read) independently, so the illustrations to not help with decoding." Read the full Reading Tub review.
Middle Grade & Young Adults (Ages 10 and Up)

Myth of the Summer Moon
by Steve Reed and Aaron Reed
Baker Tritton Press, 2006
 In the Summer of 1936 the Christofis girls and their neighbors the Brownings were busy with farm chores. Still, there was time for friends. One night, when three local boys got drunk and launched a brutal attack on Jimmy Browning and Helena Christofis, the depth of their faith and understanding of friendship were truly tested. Modern social circumstances and Greek legend are woven into a story for teens about generosity, sacrifice, courage, and prejudice.
From our Teen Reviewer: "This book left me with a good feeling. It reminded me of stories my grandmother told about living in the 1930s. It needs a sequel. The story moves quickly, offering characters of depth, a plot-line that go beyond traditional "summer of xxx" teen stories, and humor, as well." Read the full Reading Tub review.
Wrapping it Up
To those who have also subscribed to the Literacy Lalapalooza newsletter we hope that the new ideas here complement the recommendations and tips you got in your mailbox.
If you didn't get the email version, its not too late. We'd love to have you join us for the next ten months of our Literacy Lalapalooza..
Have some favorite children's or young adult books that seem to fit perfectly with March? Have a recommendation for a gift for a reader? Please share your ideas, recommendations and blog links here! Its not a party without you.
Disclosure: This post contains affiliate links. The Reading Tub may earn income through purchases made via these links.