Literacy Lalapalooza 11 – Literacy Fun for Back to School
Welcome to Literacy Lalapalooza number 11! Each month since November 2012, we have been celebrating the Reading Tub's 10th Anniversary. Our goal is to offer simple ways to integrate literacy into everyday activities or moments, as well as some reading ideas. Each edition of the Lalapalooza  has ONE idea for literacy and reading; TWO tools or resource suggestions, and THREE book recommendations (one for each reading age).
Since we are a blog about literacy, it seems only fitting to give a belated shout-out to our Newspaper Carrier. Yesterday was Newspaper Carrier Day. We have our first Friday the 13th of the year next week, and there are plenty of fun *excuses* for literacy moments …
No blame here, let's get started!
1 Literacy Idea: Daily Routine Checklist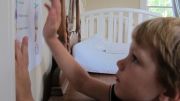 There is a lot that goes into getting ready for school in the morning, and then handling any related tasks in the afternoon. One way that we can help our kids take responsibility (and sneak in some literacy) is to create a checklist.
It is never too young to get organized. Work together with your child to create the list – that way they're invested. Let kids who aren't reading or writing draw a picture of what "brush my teeth," means. Then you can spell the words next to it.
Not feeling creative? A simple web search will help you find lots of printable daily routine checklists for kids.
2 Literacy Tools / Resources Suggestions
Spelling and vocabulary Darts Game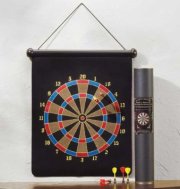 One way to change up the way you practice words may be to create a dart board (bristle, rubber, or magnetic tip, please!).  For students studying word families, put the root in the middle (let's say "it"). Tape the initial letter (b, m, s, f) and scatter them on the board.
You can call out a word and then aim for the letter, or
Aim for a letter and then have your marksman say the word.
For vocabulary words, just tape the word onto the board and then when the dart lands on it, your marksman gives you the definition.
If you're worried about your marksman's aim, try laying the dartboard on the floor. That way he can drop his "dart" onto the right spot.
Summer Vacation Collage or Scrapbook

Here's a project that will capture the memories of summer. Rather than write a "What I did on my summer vacation" essay, let the kids tell the story in their own way.Download the pics from their phone and add a note or two, make a video or a slideshow, interview a sibling, or even write that story … the sky is the limit. Put everyone's memories together and you have a family scrapbook.
With free programs like Smilebox (A Hallmark product) you can create a collage scrapbook with pictures, text, and/or video.
3 Books Recommendations
I think we'll skip recommendations for National Beheading Day and opt to celebrate Read a Book Day, which is TOMORROW!! If you can make it 'til the 18th, that's National Cheeseburger Day.
Infant to Preschool Audience (ages newborn to 4)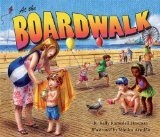 Wild about Books
written by Judy Sierra and illustrated by Marc Brown
Alfred A. Knopf, 2004
Who knew what would happen at the zoo when Molly McGrew opened up her bookmobile and a story or two! This is a rhyming picture book about animals who learn to love reading.
"Our preschooler has requested a reading and independently 'read' this book for a full year (and counting)! With every read, there is laughter and silliness to go with the new things 'spotted' on the pages.
"This is so much fun … even after a year's time. The rhyming and alliteration keep it fresh, as do the imitated antics of the various characters. It is Dr. Seuss goes to the zoo." Read the full Reading Tub review.
Emerging & Developing Readers (ages 5 to 9)

Bubba Begonia You'll Be Sorry
written by Gerry O'Brien; illustrated by Brenda Jones
Acorn Books, 2006
Mom warns Bubba. Dad warns Bubba. Even Becky, Bubba's baby sister, warns Bubba. But on his first day of fourth grade, at a new school, with a teacher that looks like Barbie, Bubba's nervous habit prevails: he sticks his finger up his nose and it gets stuck! EVERYONE tries to help Bubba: his teacher, his classmates, the school nurse, even the fire department. No luck. Is Mom right? Will he stay like this forever?

"This is a fun, visual story that kids of all ages will love. There is enough 'ew yuck' to make them laugh, but not so much that parent's will find the story disgusting. It is a reluctant reader's page turner!
"We giggled as much as our daughter (age 6)! This is a fun story to read, and we were happy to help her start the day with a smile! We were a little concerned she'd pick up and start repeating some of the lines, but that hasn't happened." Read the full Reading Tub review.
Middle Grade & Young Adults (Ages 10 and Up)

Ghost of Spirit Bear
by Ben Mikaelsen
HarperCollins Publishers, 2008
 Cole Matthews and his friend Peter Driscal completed a year of banishment to a remote Alaskan Island. They are returning to Minneapolis after having survived many cold, lonely, and life-threatening situations. Instead of looking forward to returning to family and friends, Cole and Peter are concerned that bullies, gangs, and drug dealers will harass them. Cole and Peter are on probation. One mistake by either of them would land them in prison. Their parole officer, Garvey, suggested that they draw on their experience from the island to find some answers. Will they take his advice? This is the second title in this YA series about growing up in tough circumstances..
From our teen reviewer: "This book picked up right where the first book left off, and it has a good ending. I picked the book because because I had already read the first book in the series. I thought it was what I imagined it would be because it picks up right where the other one left off. The book has a good message, but it is a little hard to read.
Our adult reviewer said "A simple story, believable characters, and realistic incidents make this an enjoyable read. It can be a discussion starter for preteens/tweeners and those who teach and counsel them. The hero was a bully. Children who read this book will recognize the personalities and behaviors of bullies and, with some help from a concerned adult, learn how to cope with the behavior of bullies." Read the full Reading Tub review.
Wrapping it Up
To those who have also subscribed to the Literacy Lalapalooza newsletter we hope that the new ideas here complement the recommendations and tips you got in your mailbox.
If you didn't get the email version, its not too late. We'd love to have you join us for the next ten months of our Literacy Lalapalooza..
Have some favorite children's or young adult books that seem to fit perfectly with September's literacy themes? Have a recommendation for a gift for a reader? Please share your ideas, recommendations and blog links here! Its not a party without you.
Disclosure: This post contains affiliate links. The Reading Tub may earn income for its literacy programs through purchases made via these links.