Literacy Lalapalooza 12 – Plenty of Ideas for Fall
Welcome to Literacy Lalapalooza number 12! Each month since November 2012, we have been celebrating the Reading Tub's 10th Anniversary.
Our goal is to offer simple ways to integrate literacy into everyday activities or moments, as well as some reading ideas. Each edition of our Literacy Lalapalooza has ONE idea for literacy and reading; TWO tools or resource suggestions, and THREE book recommendations (one for each reading age).
I need your input: We've been publishing the Literacy Lalapalooza for a year. There are just two more left … have the Lalapalooza newsletters and these posts helpful? did they offer fresh ideas? Should we continue?
1 Literacy Idea: Anchorman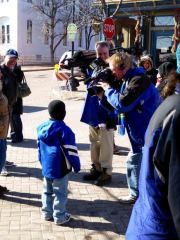 This idea was inspired by TV Talk Show Host Day (October 27, in case you didn't know).
Video your child's sporting event (or set the DVR to record a game from a sport they love). Play it back on the TV and let the kids do the play-by-play or be the sportscaster who summarizes the game.
Since it is "Talk Show Day," pull up a couch, turn on the camera, and interview them … or let them interview you!
2 Literacy Tools / Resources Suggestions
What's Your Message?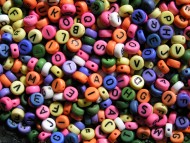 Ask players to give you a letter until you have 12, and letters can be used more than once. Write down the letters in the order you received them. Then give each player (or team) 15 minutes to compose a message where each of the 12 letters is the first letter of a word.
Everyone reads their message aloud and people vote on their favorite.
Alternate: Choose a word and use each of the letters in the word to create your message or compose a definition. This version could be fun on Dictionary Day (October 16).
POP for Sight Words Game


October is National Popcorn Popping Month. Yes, we could watch a movie, but sometimes kids just want to *do* something.
With POP for Sight Words Game, you can help emerging readers learn the 100 most frequently used words in print. There are 100 popcorn-shaped cards, and many ways to play.
3 Books Recommendations
I am just settling into Autumn, but the holidays will be here before we know it. In our house, the holiday craziness begins with Halloween. This month I've selected books that will get us ready for Carve a Pumpkin Day on October 31.
Infant to Preschool Audience (ages newborn to 4)

By the Light of the Halloween Moon
written by Caroline Stutson and illustrated by Kevin Hawkes
Marshall Cavendish Children's Books, 2009
There are ten toes hanging over the edge of the pier tapping out a tune. First the cat spots them, then a witch, then a bungling bat, a ghoul … and more. Each trying in turn to pinch, grab, or bite those toes. Whose toes are they? Will any of the Halloween guests get them?
"This one is fun, Mom" … even after a year's time. Our daughter (9) wanted to read again. Little humorous details in the illustrations and a clever story combine in what could easily become a holiday tradition in your house.
"After the second round of "by the light, by the light …" I thought it was going to get tiresome, but it didn't. This is a delightful read, and despite the black background, it is lighthearted and suited for young children, too. The repetition is perfect for helping new readers and the illustrations do an exceptional job adding clues for them to decode words."
Read the full Reading Tub review.
Emerging & Developing Readers (ages 5 to 9)

Never Race a Runaway Pumpkin (Roscoe Riley Rules #7)
written by Catherine Applegate and illustrated by Brian Biggs
HarperCollins, 2009
Math, superstitions, a really big pumpkin, and a playful, orphaned kitten all combine to land Roscoe back in time out. Roscoe tells us that after Mr. Page the librarian reads a book about pumpkins, he told them about the Hilltop Bookstore contest: guess the weight of the pumpkin in the window and you can win books for your school library … and candy for yourself. Roscoe even listens to Miss Diz' lessons about estimation to help him. Will it work? Or will that black cat ruin everything? This illustrated chapter book is about the life of first-grader Roscoe Riley.

"Our daughter loves Roscoe. She couldn't stand the suspense and stayed up late to read the last two chapters by herself one night! Then she came out of her room and asked if we had (or could get) the other books we hadn't read yet.
"We love Roscoe, too. The books are clever and funny. The author does a wonderful job layering lots of information – from numbers and math, to facts about pumpkins, to life as a first grader! She did a great job explaining superstitions."
Read the full Reading Tub review.
Middle Grade & Young Adults (Ages 10 and Up)

Who Stole Halloween (Chickadee Court Mysteries)
by Martha Freeman
Holiday House, 2005
 Alex was having a fine day until Luau (his cat) went into the cemetery and sat on a grave. There, Alex and Yasmeen picked up a flyer: Kyle Richmond's cat Halloween was missing. Yasmeen may be excited about solving another mystery. Alex wasn't. He was more concerned about what was going on at the old Harvey House. When Alex's Mom (a police officer) told him that there was a rash of cat-nappings, Alex decided he needed to figure out what was going on. He and Yasmeen would be detectives – and they'd use Luau as bait. What could possibly go wrong? This is a wholesome mystery series with two 12-year-old detectives solving cases.
"The cover caught my attention on this one. The black cat has a great expression on his face. I found myself staying up later and later trying to finish this book. Each chapter has just enough of a cliff hanger that you want to turn the page to see what happens next. The story is fun, the characters are eclectic, and the relationships between adults and kids is respectful. A nice treat!
"Short chapters, plenty of action, and one smart cat engage readers from the outset of this book for transitional readers."
Read the full Reading Tub review.
Wrapping it Up
To those who have also subscribed to the Literacy Lalapalooza newsletter we hope that the new ideas here complement the recommendations and tips you got in your mailbox.
If you didn't get the email version, its not too late. We'd love to have you join us for the next two months of our literacy extravaganza
Have some favorite children's or young adult books that seem to fit perfectly with September's literacy themes? Have a recommendation for a gift for a reader? Please share your ideas, recommendations and blog links here! Its not a party without you.
Disclosure: This post contains affiliate links. The Reading Tub may earn income for its literacy programs through purchases made via these links.