Literacy Lalapalooza 13 – Family Literacy Edition
The Literacy Lalapalooza shares simple ways to integrate literacy into everyday activities or moments, as well as some reading ideas.
Each edition of our Literacy Lalapalooza has ONE idea for literacy and reading; TWO unique literacy ideas, and THREE book recommendations (one for each reading age). Each month since November 2012, we have been celebrating the Reading Tub's 10th Anniversary. We have just one more Lalapalooza left!
Welcome to Literacy Lalapalooza (lucky) number  13! November is synonymous with Thanksgiving, and Thanksgiving is synonymous with family, so this month we really hone in on some family literacy ideas that can be done in the name of togetherness (and fun, of course!).
1 Family Literacy Idea: Go Fly a Plane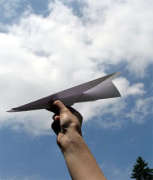 November is Aviation History Month. Why not bring history to life and create a flying machine of your own?
Not only is folding paper is great practice for building fine motor skills, you can also model literacy in action.
First, try different designs and different materials. Then get the kids to put their thinking caps on: which ones folded easier (analysis)? which ones will fly better (prediction)? Be sure to write down your notes, too!
2 Family Literacy Tools / Resources Suggestions
Secret Messages & Spycraft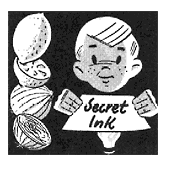 This idea is a modification of a recent post on My Kids' Adventures. In this mid-October 2013 post, Steve Spangler showed readers how to create black light Halloween messages. Halloween imagery is just the tip of the iceberg, though. Kids can draw pictures or send each other secret messages. Best of all, you have most of the supplies already. The only one you may not have is a (mini) black light.
An alternative to black light is the good, old-fashioned invisible ink. You can make it with baking soda, lemon juice, milk, or any number of household items. Invisible inks can be your secret to family literacy, too!
Play Some Games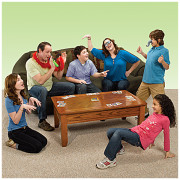 Newsletter readers already know about this suggestion! Games and puzzles are perfect for building family literacy skills. Players need to handle game pieces and follow instructions to execute a move (e.g., count steps on dice). Some games take a lot of strategy and critical thinking skills. Puzzles are equally effective because matching pieces (whether by color, size, or shape) is spatial processing.
No matter what your child is interested in, there is a puzzle or game for that. Reminder: 
puzzles and games
 make great gifts, too, so if you're getting an early start on your holiday shopping, this 
extensive list of ideas
 may help get you started.
4 Book Recommendations
There are so many holidays and commemoration this month. Thanksgiving is the obvious one, but it is also National Adoption Month. Because family is so important to all of us, I'm adding a bonus for TWO picture books to celebrate family literacy this month!
Infant to Preschool Audience (ages newborn to 4)
Albert's Thanksgiving
written by Leslie Tyron
Atheneum Books for Young Readers, 1994
The Pleasant Valley PTA is preparing for the children's annual Thanksgiving Feast, and everyone is busy–especially Albert the duck–working on the last-minute details. This is a great story for the season. Although Albert seems to be called upon a few-too-many times, in the end, Albert gets some help, too.
"When we begin reading this story with our 2-year-old, all activity stops. There's at least one "who's this?" on every page.
"The story moves along easily and the illustrations are chock full of details and activities that engage young (and older) readers. It even has the recipe for Albert's famous pumpkin pizza dessert!"
Read the full Reading Tub review.
Motherbridge of Love
written by Anonymous; illustrated by Josee Massee
Barefoot Books, 2007
A woman from China gives up her child so a woman in the United States can raise her and have a child. The words in the book are about one giving her life and the other teaching her to live. It shows that one gave her emotions but the other is there to comfort. It explains how one found a home she could not provide while the other prayed for a child and was not denied. This is a book to celebrate and explain adoption for children.
"This is a beautiful book for adoptive families. Adopted children will find the book reassuring and comforting. It is an excellent selection for a library, too."
Read the full Reading Tub Review
Emerging & Developing Readers (ages 5 to 9)

Franklin's Pumpkin
written by Sharon Jennings, et al
illustrated by Sasha McIntyre, Robert Penman, Jelena Sisic, and Shelley Southern
Kids Can Press, Ltd. 2004
Franklin the Turtle has a large pumpkin growing in his yard. The Fall Fair is coming up, and all of his friends are submitting things, each one hoping to win a blue ribbon. Franklin is not sure what he can do with the pumpkin. When his sister comes home crying, he helps make her day better, and in the end wins a blue ribbon in his own unique way. This story, based on the television character Franklin, is part of the Kids Can Read series.

"My daughter (4) picked this book out at the library. She loved it. The drawings were exactly like the TV show, so she felt like she already knew the characters. She enjoyed how Franklin got a prize for something very unexpected. When Franklin helped his sister, she mentioned that he was being a good brother.
"It is always good to read stories where the characters are kind to each other and have fun too. This is a fun story that is easy to understand."
Read the full Reading Tub review.
Middle Grade & Young Adults (Ages 10 and Up)

Thanksgiving at the Inn
by Tim Whitney
Bancroft Press, 2009
Heath and his dad are on their way to Massachusetts. His grandfather had just died and Heath's dad, hoping for a great inheritance despite being estranged from his father, wanted to meet with the lawyer before the funeral. The good news is, that they will inherit the Sleeping Inn; the bad news is that they must live there for 3 months before they can evict the tenants and sell it.
On the one hand, Heath is excited to be getting out of school (where he'd just gotten in trouble). On the other, though, he wasn't getting along with his dad too well, and his dad's idea of punishment was hard labor. As Heath's relationship with is father continues to deteriorate, he finds that the tenants are filling the gaps of "family" that he's been missing. Now he's not sure he wants to leave. This story about growing up set in a country inn, is framed from the perspective of its 11-year-old main character.
"I loved this book. PLEASE don't let the title lead you to think that this is a seasonal story. It just happens to occur around Thanksgiving. This is a book that can – and should – be read any time of year.
"This is a book the whole family can enjoy and grow from. Although it is a father-son story, girls will enjoy it too. Kids (particularly teens) will relate to Heath's antagonistic relationship with his dad."
Read the full Reading Tub review.
Wrapping it Up
To those who have also subscribed to the Literacy Lalapalooza newsletter we hope that the new ideas here complement the recommendations and tips you got in your mailbox.
If you didn't get the email version, its not too late. We'd love to have you join us for the next two months of our literacy extravaganza
Have some favorite children's or young adult books that seem to fit perfectly with September's literacy themes? Have a recommendation for a gift for a reader? Please share your ideas, recommendations and blog links here! Its not a party without you.
Disclosure: This post contains affiliate links. The Reading Tub may earn income for its literacy programs through purchases made via these links.
Image Credits
Girls whispering – freestockimage.com
Paper Airplane – Autumn Rocks Dawg on photobucket.com
Secret Ink – wierdsciencekids.com