Christmas is Here – Literacy Lalapalooza 14
Our year-long celebration has come to an end. As I said in my newsletter, it seems only fitting that the last Literacy Lalapalooza is during Read a New Book Month. The Reading Tub is now officially a "tween," having just turned 11. Merry Christmas!
Don't worry, we'll still be talking about creative ways to promote literacy for families. We recently launched a new series here on the blog, and in January we'll start a monthly series with a book recommendation tailored just for your reading interests. If you're already a Wash Rag subscriber, just update your profile to include the genres your kids like to read and their ages.
Before we jump in this last time, I'd like to wish you a holiday filled with wonderful memories. Whether you celebrate Christmas, Kwanzaa, Hanukkah, or nothing at all, we hope the rest of the year leaves plenty of time to be together as a family.
1 Family Literacy Idea: Let's Bake Christmas Cookies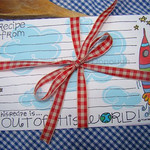 You don't have to wait until December 18 (Bake Cookies Day) to put this literacy idea into action. Pull out a favorite recipe or spend some time with your kids looking for new ones in your cookbooks, online, or in magazines.
Recipes make it easy to model literacy and show how we use reading in everyday life. It's not just the directions, either. Reading the ingredients list to make sure you have everything is helpful for teaching planning and sequencing.
2 Family Literacy Tools / Resources Suggestions
An Oldie but Goody – Telephone

Depending on which version you play, it may be that more players is more fun. With a few players, the game would be for the first person to whisper a story into the second player's ear, and so on down the line. The more detailed and descriptive, the better (read: funnier) the outcome.
With a lot of players, the "story" might just be one, long sentence. By the time it is whispered down the line, it won't likely match the original statement. To make the game more challenging, have a television or radio playing in the background. That will up the ante on the level of concentration required by each listener.
This has great potential as a Christmas boredom buster, too.
Translating Literacy Lingo
I recently received an email (via LinkedIn) about
VAS Reading Echo
. In exploring the website, I was tickled to see so much research. Even more exciting was the fact that the material is designed to help parents (who are not immersed in literacy lingo) understand reading development.
Even though some of the tools are not yet operational, there is a WEALTH of valuable information for parents and educators alike.
3 Book Recommendations
December is when we pull out the collection of best-loved seasonal & holiday stories. Our crate is mostly picture books that we have been sharing with our now 12-year-old since she was born. The Advent / Christmas Collection continues to grow, too, as we add one new book every year.
I've not yet selected a book to put under the tree this year, so I'd love some suggestions in the comments!
Infant to Preschool Audience (ages newborn to 4)

Christmas at the Candle Factory
written by Barbara L. Johns
illustrated by Carolyn R. Stitch
Steeple Ridge Publications, 2006
Midnight has always loved Christmas. She is Grady's right-hand-paw when it comes time to creating special treasures for the holiday. But Elvis, the new cat, was ruining everything: candles, the fun of the holiday, and now, even her mood. Would Christmas ever be the same again? This is a seasonal picture book that doesn't involve a big man in a red suit, but offers a wonderful story all the same.
"Our preschooler instantly recognized the errors of Elvis' ways. The illustrations captivated her. We loved that the story is more about relationships than a holiday. You could really read it all year long.
"The story is fun to read on several levels. Those who celebrate any December holiday (with or without Santa) are recognized, making it universally fun. You'll also learn a thing or two about candle making."
Read the full Reading Tub review.
Emerging & Developing Readers (ages 5 to 9)

Everything Goes: Henry Goes Skating
written by Brian Briggs
illustrated by Simon Abbott
Harper, an Imprint of HarperCollins Publishers, 2012
Henry wakes up to snow. When mom suggests ice skating, Henry gets excited. It is slow going to the park, and there is lots to see from the car: trucks, cars, buses, even a dog pulling a sled. 

"his is so much more than an easy reader! I love the idea of sharing it with toddlers and preschoolers to explore the illustrations (counting, colors, objects, cute little birds in hats!), then letting Kindergartners and first graders read and explore for themselves.
"Many of the illustrations have simple words or letters that complement the text. The combination of a good story and great illustrations make this a perfect choice for a seasonal easy reader."
"It is always good to read stories where the characters are kind to each other and have fun too. This is a fun story that is easy to understand."
Read the full Reading Tub review.
Middle Grade & Young Adults (Ages 10 and Up)
Dancing through the Snow
by Jean Little
Kane Miller, 2009
It's a week before Christmas and Min is on the move again. Min is back in the "Recycle Bin," aka the Children's Aid office. Knowing that she was orphaned not adopted, and having gone through four foster families, Min is starting to believe what the bullies at school say: she is garbage girl, her parents (whoever they were!) just threw her away.
When Dr. Jessica Hart overhears Min's newest foster parent spewing lies about Min, she "kidnaps" her! Min could have a real Christmas, with a real family. Or it could be just another stop. This young adult novel focuses on themes of family, adoption, and bullying. 
"This is a wonderful story and one of my favorites. Min's story is a little predictable, as it becomes clear early on that she will become Jessica's daughter. But there is plenty of depth and originality to the story, too."
Read the full Reading Tub review.
Wrapping it Up
Happy Holidays … and happy reading.
Disclosure: This post contains affiliate links. The Reading Tub may earn income for its literacy programs through purchases made via these links.
Image Credits
Recipe cards – Flickr Creative Commons, Fresh Pickled Whimsy