Literacy Lalapalooza 6 – Spring is In the Air
Our Literacy Lalapalooza is a 14-month celebration of the Reading Tub's 10th Anniversary. It is our way of thanking you for sharing the gift of literacy. Each issue will have  
Idea for literacy and reading.
Tools and/or Resources suggestions (e.g., websites, games, toys)
Book ideas, one for each reading group: 0-4, 5-9, 10&Up
Sign up for the newsletter edition and DOUBLE the creative literacy ideas. Subscribers already got their email with a completely unique set of recommendations. You must select "Literacy Lalapalooza" in the Sign Me Up For … section
1 Literacy Idea: Play Horse!

H-O-R-S-E is a game usually associated with basketball, but it can really be played with any goal-oriented sport like soccer or lacrosse. 
This is a great way to practice spelling, so take the weekly spelling list outside and have fun with homework! Bet it goes by F-A-S-T. [Image Source: MaxiNews, UK]
2 Literacy Tools / Resource Suggestions
April is National Poetry Month and rhyming is a great way to engage kids with literacy concepts. Just in case you're interested … National Karaoke week begins April 21. In doing research I read that singing Karaoke can "improve self esteem." Hmmm ….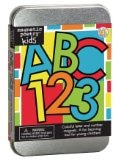 Think magnets!
You can get fancy with a magnetic poetry kit for kids, you can pull out the plastic-coated letters you used "way back when," or you can make some simple or picture word cards and use tape! Poetry is pure, creative wordplay.
* Arrange and re-arrange the letters or words.
* Start one line and have each family member add the next part.
* Pick a topic for each day and write a new poem every day.
Don't forget to keep the camera nearby so you can take pictures of your literary genius!
Grab a microphone!
Okay, it isn't classic karaoke, but why can't we create reading karaoke? It could be  Mom, Dad, Grandma, or Grandpa recording a read aloud. Maybe it is the kids making their own audio version of a book.
Older kids can add sound effects and more to make it LOTS of fun!
3 Books Recommendations
Have you ever wanted to change your name? Well, April 9 is Name Yourself Day! Later this month is National Newspaper Columnists Day, so why not pull out those tabletop interviews you did in February and put them into a family newspaper?
Infant to Preschool Audience (ages newborn to 4)

My Name is Not Isabella
written Jennifer Fosberry and illustrated by Mike Litwin
Monkey Barrel Press, 2008
When mom comes to wake Isabella, Isabella has changed her name to Sally. At breakfast, Sally becomes Annie, and through the course of the day changes to Rosa, Marie, and Elizabeth. Each a woman of accomplishment: Sally Ride, Annie Oakley, Rosa Parks, Marie Curie, and Elizabeth Blackwell. At the end of the day, Isabella takes the name of her biggest heroine: Mommy. This picture book introduces pre-readers and young readers to famous women in history.
This is a fun way to introduce famous women to young children. Thanks to the short biographies in the back, parents can build out the individual heroines (even if they forgot a couple facts). The bio for Mommy is a nice touch. Read the full Reading Tub review.
Emerging & Developing Readers (ages 5 to 9)

My Parents Think I'm Sleeping 
written and illustrated by Jack Prelutsky
Greenwillow Books, 2008
Rhyming verse sets the pace for this collection of 14 poems that let us share a child's world after dark: from noises at night to the stars in the sky. This is an illustrated collection of poems written for kids learning to read.
Our daughter loved the poems, and the further we got into the book, the more she wanted to read herself. This was fun to read and a great way to introduce poetry to kids. Some of the poems took me back to my own childhood! Read the full Reading Tub review.
Middle Grade & Young Adults (Ages 10 and Up)

Peeled
by Joan Bauer
G. P. Putnam's Sons, 2008
 Banesville, New York is apple country. It may be small enough that the high school newspaper writes stories about the community's events, but it is NOT a sleepy town. There is a haunted house, a ghost, a dead guy, and some out-of-towners snooping around. Hildy Biddle and the staff at The Core are learning first-hand about fact, fiction, and the freedom of speech. This is a high/low novel with many layers: journalism, life as a teen, farming, and community dynamics.
This is a very enjoyable, enlightening read. Hildy very effectively tells the story, and she not only offers her own feelings as a high school student dealing with the loss of her father, but also as a first-hand observer of the economics of being a farmer. The author very skilfully weaves together the themes of journalism and the First Amendment and the Polish Revolution. These are areas of knowledge and experience kids take for granted … or don't even know about. Read the full Reading Tub review.
Wrapping it Up
To those who have also subscribed to the Literacy Lalapalooza newsletter we hope that the new ideas here complement the recommendations and tips you got in your mailbox.
If you didn't get the email version, its not too late. We'd love to have you join us for the next ten months of our Literacy Lalapalooza..
Have some favorite children's or young adult books that seem to fit perfectly with March? Have a recommendation for a gift for a reader? Please share your ideas, recommendations and blog links here! Its not a party without you.
Disclosure: This post contains affiliate links. The Reading Tub may earn income through purchases made via these links.