Literacy Lalapalooza 7 – Thanks Mom Edition
Our Literacy Lalapalooza is a 14-month celebration of the Reading Tub's 10th Anniversary. It is our way of thanking you for sharing the gift of literacy. Each issue will have  
Idea for literacy and reading.
Tools and/or Resources suggestions (e.g., websites, games, toys)
Book ideas, one for each reading group: 0-4, 5-9, 10&Up
Sign up for the newsletter edition and DOUBLE the creative literacy ideas. Subscribers already got their email with a completely unique set of recommendations. You must select "Literacy Lalapalooza" in the Sign Me Up For … section
1 Literacy Idea: Choo, Choo!

"All Aboard!" May 9 is National Train Day. Make a "box" car or line up some rows of chairs and have some fun. Kids love trains and the rhythm is perfect for some literacy fun. Let them be the conductor, give them some "routes" to run and cargo to pick up. It's a chance for them to practice their asking skills!
Young(ish) Single Mom blog has pictures on how to make this cardboard train. [Image Source: www.youngishsinglemom.blogspot.com]
2 Literacy Tools / Resource Suggestions
Sticking with a theme of fun sounds, did you know that International Jazz Day is May 25 this year? The jazz style known as scat is a ready-made way to have fun with words and word sounds. 
https://amzn.to/2K8EAQCIt's Jazz, Man!
An oldie but a goodie: Jazz Baby, Session 1: Cool music for your family Actually any collection of music will do. I know we say it a lot, but songs are invaluable when it comes to literacy.
* Lyrics add to their vocabulary;
* Ballads tell stories that spark their imagination;
* Rhythm helps them understand the cadence of language.

Tell a Story with Animation!
Even though our friend the Book Chook is a chicken, she has an eagle's eye when it comes to creative literacy. At Domo Animate, kids can create a slideshow / video story. Kids can upload pictures into a story (e.g., a TV show set), as well as animate Domo and his other friends. In the Go Animate studio, you can create a cartoon (think Bugs Bunny).
3 Books Recommendations
So many fun events for May. We've already talked about trains and jazz; and there's National No Socks Day (May 8). But one of the most beloved days of spring is Mother's Day!
Yes, it is a holiday made for Hallmark, but its also a great reminder that Moms have the greatest impact on their child's literacy. Regardless of economic standing, a mother's literacy skills have the biggest influence on a child's learning. So thanks, Mom!
Infant to Preschool Audience (ages newborn to 4)

When Louis Armstrong Taught Me Scat
written by Muriel Harris Weinstein and illustrated by R. Gregory Christie
Chronicle Books, 2008
Momma has the radio on and is listening to jazz. When she hears Louis Armstrong singing, they both just have to get up and dance. What are those words Momma is singing? It is scat — musical poetry. That nights, as Sugar is nodding off to sleep, she meets none other than Louis Armstrong himself. Together, they create a bubble gum song … scat style, of course! Sing along in this story that gets kids engaged in learning how to scat.
Get ready for some grooving, moving and musical tuning when you share this book with a child. This is a clever, fun way to introduce kids not only to a music style, but also Louis Armstrong himself. The factual material in the back is a wonderful complement to the story, which brings the music to life. The colorful text, which moves all over the page, adds to the rhythm, too. Read the full Reading Tub review.
Emerging & Developing Readers (ages 5 to 9)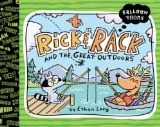 Rick and Rack and the Great Outdoors 
written and illustrated by Ethan Long
Blue Apple Books, 2010
Rhyming verse sets the pace for this collection of 14 poems that let us share a child's world after dark: from noises at night to the stars in the sky. This is an illustrated collection of poems written for kids learning to read.
Rick (a raccoon) and Rack (a deer) are good friends. When Rack wants to go fishing, he has to convince Rick that it will be fun. Rack isn't convinced. Then, the two friends go on a hike … which isn't much fun either until they find some mysterious tracks on the ground. A shark? a rhino? a fire-breathing dragon? That didn't go well either. So then they try paddling a canoe. Things are bound to get better, right? This is an easy reader with three short, humorous stories for kids learning to read. Read the full Reading Tub review.
This is a very VISUAL book, so I think it was easy for my 4-year-old to "read" the story using the pictures. He would sit down on his own and just flip through the pages. I did not expect my children (4 and 6) to like it was much as they did. They absolutely devoured it. I would highly recommend trying this book format as a change-up for other children's books, just to expose the kids to a different style of media. Read the full Reading Tub review.
Middle Grade & Young Adults (Ages 10 and Up)

The Secret Life of Sparrow Delaney
by Suzanne Harper
Greenwillow Books, 2008
 Sparrow Delaney loves the idea of a fresh start. As a sophomore at a new high school, she's anxious to make new friends and stay away from the family business. She doesn't want to be a medium (like her mom and six sisters), she wants to have a normal life. Fate – and her spirit guides – have other plans. Sparrow is learning that running away won't make things go away. Is there any chance she can cross over to become just a regular teenager? This is a coming-of-age story that offers life lessons with a dash of humor.
Teens will enjoy this fast-moving, humorous look at life as a high school sophomore. Sparrow is a wonderful character. She frets like every teenager, but she has a wonderful sense of humor and is a great storyteller. Spiritualism is just one of the threads that underlies the plot, it is not a dominant feature, as Sparrow, Jack, Luke, and the dynamics of teens dealing with adults are what drive the story. This book has great potential as a high interest/low readability title.. Read the full Reading Tub review.
Wrapping it Up
To those who have also subscribed to the Literacy Lalapalooza newsletter we hope that the new ideas here complement the recommendations and tips you got in your mailbox.
If you didn't get the email version, its not too late. We'd love to have you join us for the next ten months of our Literacy Lalapalooza..
Have some favorite children's or young adult books that seem to fit perfectly with March? Have a recommendation for a gift for a reader? Please share your ideas, recommendations and blog links here! Its not a party without you.
Disclosure: This post contains affiliate links. The Reading Tub may earn income through purchases made via these links.