Literacy Lalapalooza 9 – Summer Vacation Edition
Happy Summer Vacation! and Welcome to our 9th Literacy Lalapalooza! Each month since November 2012, we have been celebrating the Reading Tub's 10th Anniversary.
This is our way of thanking you for sharing the gift of literacy. Each issue has ONE idea for literacy and reading; TWO tools or resource suggestions, and THREE book recommendations (one for each reading age).
There is newsletter edition, too! So DOUBLE the creative literacy ideas and sign up today. Subscribers already got their email with a completely unique set of recommendations for literacy during summer vacation.  Just ask, and I'll be happy to send it to you.
Believe it or not, hitting the road is one of the easiest ways to sneak in some literacy fun. Summer vacation is a great way to disguise literacy and learning. Whether its sending a postcard (or email) to Grandma, reading a map and counting the exit signs, or a family sing-along with your favorite tunes.
1 Literacy Idea: Flat Stanley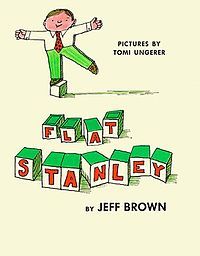 Is there anyone better to take on a family trip than Flat Stanley? Traditionally, Stanley is a card-stock or paper cutout that gets sent around to family and friends and gets his picture taken wherever he may be.But why not invite Stanley Lambchop on your road trip?
He doesn't need a suitcase, he won't add to the grocery bill, and the kids will have a blast taking pictures of him everywhere, making it a memorable summer vacation for everyone. You can draw, color, and pack your own Stanley or (thanks to modern technology) get a mobile Flat Stanley for iOS.
2 Literacy Tools / Resource Suggestions Dads will Love

Who am I?
This is a game that is perfect to play at the dinner table or in the car. The person who is "it," decides what character they want to be from either a a book or movie story. Once they've decided, they offer clues – one at a time – to the "audience," who has to guess who they are.
Depending on the age of the audience, you  may / may not want to allow questions. Ideally, the person who is it should answer "in character."

Bingo!
There are so many versions of Bingo – from the traditional letter/number call-out to image-based games. The Travel Bingo shown here is a printable download from the Frugal York Girls blog.
Over at e-How.com you can lean how to make your own Bingo board game. That lets you personalize the game for your summer vacation trip and your readers' abilities.
3 Books Recommendations
There are lots of holidays in July. There is the obvious Independence Day celebration here in the States, but before that was World UFO Day (July 2) and Compliment Your Mirror Day (July 3). Let's not forget Embrace Your Geekness Day (which happens to be my birthday. Coincidence, I'm sure!), plenty of Ice Cream flavor days, and (my personal favorite)  Hammock Day!
Infant to Preschool Audience (ages newborn to 4)

Yucky Worms
written by Vivian French and illustrated by Jessica Ahlberg
Candlewick Press, 2010
You'll discover all sorts of fascinating things about the lives of earthworms in this humorous picture book. Besides learning where these lowly creatures live you'll find out how they move, what they eat and why gardeners love them. This is a picture book story that offers factual information about earthworms.
"This book is both funny and informative. It was a hit with a friend of mine, an elementary school librarian, who suggested this book to some students. The kids loved it. The information on earthworms is excellent and the art work is very good. This clever volume will totally change how you look upon earthworms. In fact, you may not even use the word "yucky" anymore to describe them!" Read the full Reading Tub review.
Emerging & Developing Readers (ages 5 to 9)
The Missing Mitt (Hardy Boys Files, #2)
written by Mitali Perkins
Scholastic Inc., 2010
Joe Hardy hits a home run, the Bayport Bandits win the Little League World Series. It's all up to Joe … at least in his dream. At the REAL Little League World Series there are bigger problems: Bandits star Jason can't find his mitt. According to Jason one of the Johnston Jupiter players stole it. While everyone is in a rush to blame the other, Joe and Frank Hardy head to the bleachers to work through the clues. Can they find Jason's mitt in time for the game? 
"Baseball is the centerpiece of this mystery that also offers lessons in sportsmanship, jumping to conclusions, and friendship. We were surprised at how quickly our daughter read this one. We never knew she had an interest in baseball! She asked a lot of questions about specific types of plays (infield fly rule) and devoured it in one night. This is a light, easy read. Short chapters, wide-set type with lots of white space, and some larger illustrations will make this appealing to kids just moving to chapter books." Read the full Reading Tub review.
Middle Grade & Young Adults (Ages 10 and Up)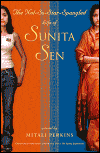 The Not-so-Star-Spangled Life of Sunita Sen
by Diane Kolb
Little, Brown  and Company, 2005
Welcome to the Sunita Sen's life! When her grandparents come from India to visit for the year, she sees the Western ways that *are* her life being threatened. She wants the social life of a regular 8th grader! The reader witnesses Sunita's transformation from a shy, angry youth to a mature teenager. This is a young-adult novel that builds its plot around the theme of feeling different.
"Readers get the sense that the author herself has lived this story. She handles the topic of multicultural identity with great alacrity, and the reader feels compassion towards Sunita as she struggles to gain her personal freedom amid rumor mills, peer pressure and the aromas of a distant land." Read the full Reading Tub review.
Wrapping it Up
To those who have also subscribed to the Literacy Lalapalooza newsletter we hope that the new ideas here complement the recommendations and tips you got in your mailbox.
If you didn't get the email version, its not too late. We'd love to have you join us for the next ten months of our Literacy Lalapalooza..
Have some favorite children's or young adult books that seem to fit perfectly with March? Have a recommendation for a gift for a reader? Please share your ideas, recommendations and blog links here! Its not a party without you.
Disclosure: This post contains affiliate links. The Reading Tub may earn income through purchases made via these links.