Literacy + Life – Books about Snow
 Welcome to 2015!
One of our goals at the Reading Tub is to bring literacy home for families.
Yes, it is about sharing books and getting children excited about reading. But it is also about engaging readers with their world.
We're kicking off 2015 by launching a new literacy series! Literacy + Life is a new series that combines books and related activities on a specific topic. It isn't a new idea, there are some great blogs that share ideas to bring books to life.
Our goal is to illustrate that literacy is part of our daily life. Some parents are overwhelmed by having to "add" literacy activities to their very busy days. Not all of us like arts and crafts. Not only do we get that, we're very sensitive to those concerns. For those reasons, our activities are going to be easy to do. So don't be surprised if a suggestion is as simple as taking a walk in the neighborhood.
We are kicking off the series with books about snow.
There are lots of great books about snow, so how did we pick these? First, we wanted our books about snow to include fiction and nonfiction, illustration and photography. We also wanted to cover the (frozen) waterfront. That means books that engage all of a reader's senses (like Peter crunching through the snow); introduce weather / science concepts (like Sadie's melting snowmen); and lend themselves to hands-on activities.
Click the covers to read the Reading Tub reviews of these books about snow.
Activity Ideas
1. Go outdoors.
Got snow? Bundle up the kids, grab your mittens, and go for a walk. Search for individual snowflakes, track your footsteps, listen to the crunch under your feet. Pick up some snow and try to make a snowball, or put some in a bucket and bring it indoors. Ask questions:
Does this snow make a good snowball?
What sounds do you here?
Does snow have an odor?
What kind of footprints do you see?
Do your shoes crunch in the snow?
What happens when we bring the snow inside?
Pair these activities with Sadie and the Snowman, The Snowy Day, When Winter Comes – a Lullaby; and Winter Friends.
2. Make fake snow.
Even if there isn't any snow in your forecast, there are plenty of ways to "play" in the snow.
There are lots of recipes for make-it-yourself snow on the Worldwide Web. We promised simple, and the recipe we liked uses just baking soda and white hair conditioner. Two ingredients you're likely to have on hand. Our recipe came from Momma's Fun World.
Mix 3 cups of baking soda with 1/2 cup hair conditioner
If you like sparkle, then feel free to add glitter! There are also just-add-water options with Insta-Snow Powder (link to Amazon.com).
Pair this activity with these books about snow: The Snowy Day and Sadie and the Snowman.
 3. Create paper snowflakes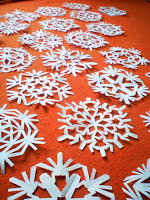 Create your own winter wonderland! From simple folded & cut printer paper to more elaborate 3D designs, the sky is the limit. We found a wonderful collection of ideas and tutorials on Pine Dawson's Snowflakes Paper Patterns and Templates board on Pinterest.
One of the added literacy benefits of creating paper-cut snowflakes is the opportunity for little hands to practice fine motor skills. That hand activity helps with preparing them to write.
Another option is to pull out the craft sticks (aka Popsicle sticks) and design your own flakes.
Pair these activities with these books about snow: Sadie and the Snowman and The Snowy Day.
Supplies List for Activities with Books about Snow
For Fake Snow
__ Baking Soda
__ White hair conditioner
__ glitter (optional, as desired)
Snowflake Crafts
__ paper – white printer paper or construction paper
__ Popsicle-style craft sticks
__ glue / glue sticks
__ glitter (optional, as desired)
__ paint (optional, as desired)
Your Turn
Literacy is a social experience. So we'd love to know about your favorite books about snow and your winter-related activities.
View blog post for supplies