Literacy Research News Great for Family Literacy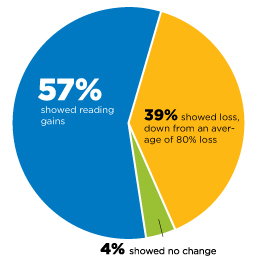 Our friends at Reading is Fundamental just issued the results of a two-year study, funded by a grant from the Department of Education's Innovative Approaches to Literacy (IAL) program.
Read for Success: Combating the Summer Slide in America is enlightening AND a reason to rejoice! Check out the Key Findings from RIF's literacy research.
On average, 57% of students improved their reading proficiency.
Nearly half of third graders increased reading proficiency.
Students performing below the 10th percentile showed the greatest gains.
Even students with strong reading skills, at or above the 90th percentile, increased reading proficiency.
Schools with the greatest improvements had a full culture change and strong parental involvement.
RIF calls them "Stunning Key Findings" and we'd have to agree. Yes, many of us knew these facts to be true – but now we have hard data! Two YEARS worth of hard data!
Literacy Research = Better Family Literacy
One of the points of RIF's literacy research is the importance of engaging parents in the reading circle. That isn't a new finding, but through the study, RIF identified ways to improve the home-school connection at a critical time: summer.
Family Literacy is our core mission at the Reading Tub. Yes, we get lots of books to at-risk readers. Yes, we review books as a 'thank you' to our donors.
But the pivotal focus of our organization is providing parents and caregivers literacy tips and ideas. In ways that make sense to them – or put another way "meets them where they are."
What the study shows me is that giving parents the tools and giving kids books must walk hand-in-hand. That is what our Family Literacy Integration Project is all about. No longer will you visit the Reading Tub *just* to find a book.
In the new Reading Tub Literacy Portal, every book review comes with age-appropriate, parent-friendly literacy tips and activities.
Just as RIF's research would not happen without a grant, FLIP cannot happen without funding support, either. Although our Crowdrise page doesn't show it [because you can't add offline donations], we have $500 in donations. That's ten percent of our goal. Help us get to 100% so we, can keep these positive opportunities going.
Thank you, Reading is Fundamental for your commitment to literacy research! The findings are hopeful and inspiring!