Milly and the Macy's Parade – a Thanksgiving Tradition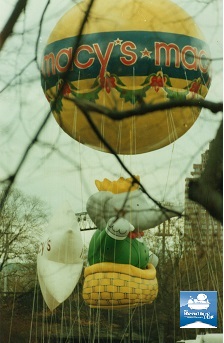 Yeah! One of my favorite holidays is almost here.
Thanksgiving is a mere blip in the drive to the December holidays, but I love it all the same. Lots of holidays have their traditions, but there is something uniquely special about Thanksgiving. Like many of you, I grew up watching the Macy's Parade on television Thanksgiving morning. That parade is still one of the highlights of my day.
Many moons ago, while living in New York City, Bill and I were walking in Central Park and we spotted a group marching with the new balloon that year: Babar. It was a windy day, and I was awestruck by just how hard it is to handle those balloons. Now, every year when we watch the parade, I am thinking of Babar, the volunteers, and that wonderful city. [I took that picture on our walk through Central Park.]
In the spirit of the season, I have pulled Milly and the Macy's Parade by Shana Corey from the archive for this week's Throwback Thursday book review. It is a semi-fictional tale about the parade's origins, as well as a celebration of family and tradition.
written by Shana Corey
illustrated by Brett Helquist
Scholastic, Inc., 2006
It is 1924, and Milly and her family are spending their first year in America. Milly's father works at Macy's Department Store and Milly loves visiting the store after school.

While Milly and her family appreciate the fun of New York City and the festive decorations, the advent of Christmas makes them homesick for Poland. Milly's family is not alone. Many of her Papa's coworkers are recent immigrants from other countries and Milly hears them talking about how much they miss the holidays back home. Milly has a special idea to bring cheer to Papa and his friends and all the immigrant families. She takes her idea straight to Mr. Macy himself. Mr. Snidely doesn't like the idea, but Mr. Macy heartily endorses the parade and he and Milly start a new holiday tradition that is "a little like the old country, a little like America, and a little like something entirely new." Milly and her Papa proudly march in the very first Macy's day parade.
Reading Tub book review: December 2009
Why a Throwback Thursday for Book Reviews?
Those of us who blog about books are a community. We read lots of books, we write lots of reviews, and we share those reviews with fellow book lovers and those in search of books for children and teens on our blogs, websites, and via social media.
We write so many reviews that, over time, they get buried by other, newer reviews. BUT! that book we read three years ago will always be new to some reader, somewhere. So why not share that review with a new audience?
Everyone is welcome! Here are the participation guidelines:
If you reviewed this graphic novel, add your permalink to the original review on the Reading Tub website or in the InLinkz Linkup above.
Want to (re)share a review you posted in October 2009 but which isn't our featured book? Add your permalink in the InLinkz Linkup or comments. [No, it doesn't have to be a book you loved; but it does have to be a review you take a lot of pride in.]
Add any notes about the review in the comments, please.
The spammers have been having a blast with our Throwback Thursday posts … now its your turn to take back blogging from those nuisances. Add your reviews to our InLinkz linkup above or the comments section below.
Too late for our Thanksgiving-themed #TBT review?
Our InLinkz linkup is open for one week from this post's publication date. If you didn't find this post in time, no worries! Add your review on our review page at the Reading Tub.
NOTES: The cover image for Milly and the Macy's Parade by Shana Corey links to amazon.com. The Reading Tub has an affiliate relationship with Amazon. 100% of any income from this source is used for our literacy mission.