Two Mother's Day Gift Ideas with a Family Literacy Twist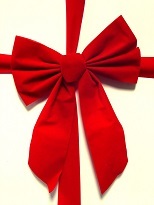 Who better to ask for Mother's Day gift ideas than other moms?
If your wife is like me, then what she really wants is a gift from the heart. My favorite Mother's Day gifts are handmade. These are treasures I keep close by all year long.
Right now there are Mother's Day projects underway in many preschool and elementary classrooms across the country.  Want a gift from the whole  family, then keep reading …
I had the honor of reading award-winning author/illustrator Marianne Richmond's picture books for the Reading Tub. Marianne has a new book (which we haven't read or reviewed) but we have loved her other books …
Every book celebrates that special bond between a parent and child, and (at least in our house) end with an extra hug!
Before Marianne became a children's author, she was a greeting card artist. Drawing on her passion for helping people find "the most heartfelt way to connect," Marianne has created a series of craft projects that are simple, don't require lots of special tools or gadgets, and are guaranteed to be treasured.
They are also wonderful ways to incorporate a little literacy into your family time. We're introducing the project and the supplies here. Marianne's easy-to-follow instructions can be found here.
Mother's Day Gift Ideas: I Love You Pillow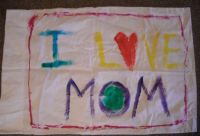 Even the most particular Mom won't mind putting her head down on a pillowcase made with love. 
Here's what you need: a white or lightly colored pillowcase, fabric markers or paints, a brushes, and a piece of cardboard to slip inside. [Note: FINE-point Sharpies will also work well for this project.]
Ages: 3 & Up. Time Required: 20 to 30 minutes
Here are some ways to make this extra special …
Let everyone write one of their favorite things about Mom on the back of the pillowcase.

Fill the pillowcase with notes and/or pictures about what you love about Mom.
Use the pillowcase to wrap any other gifts you may have collected.
Mother's Day Gift Ideas: Mosaic Journal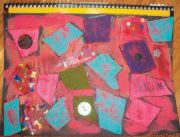 Create a keepsake that becomes a family tradition. This is a journal where each year you and the kids can add a picture or a note to mom.
Here's what you need: Loose-leaf notebook (spiral or bound), fabric or felt scraps; paint or fabric markers; glue; embellishments (e.g., buttons, gems, stickers).
Ages: 3 and Up. Time required; 30 to 40 minutes.
Here are some ways to make this extra special.
Include family pictures or drawings to illustrate your note.

Thinking like "Christmas Eve," ask Mom to get out the notebook a week before Mother's Day.
Let Mom use the book as a pick-me up. Tell her that when she needs an extra "hug," she should put the journal someplace where everyone can see it and have a chance to add a note.
Okay moms, it is your turn? What is your favorite Mother's Day gift idea?