Nancy Gee, Debut Author & Power Marketer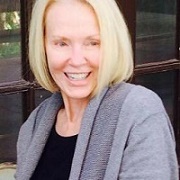 I first met Nancy Gee when I worked for the Mom's Choice Awards as their Director of Honoree Marketing. The essence of my job was to assist and guide MCA award winners with marketing their award-winning products.
Nancy was an Honoree who would write in with questions. She'd ask about specific promotional opportunities, class content, or a specific social media platform. What struck me about her questions was that I could see she "got it."
"It" being the idea that selling books is a business, and authors need to be marketers. Part of her approach stems from owning and operating her own company for more than 30 years.
Like many authors, Nancy Gee writes what she knows. Nancy's picture book The Secret Drawer is based on a true story. A painter accidentally left a door open, a flying squirrel came in, and it remained trapped in a sock drawer for two days. Although Nancy loved telling the story, it wasn't until her grandchildren challenged her to publish a book that she put pen to paper and launched her writing career.
In our interview on the Reading Tub website, Nancy and I chat about the inspiration for creating The Secret Drawer, the process of creating a story in rhyme, and her own journey to become a reader. Here, Nancy shares how her book marketing efforts have resulted in both recognition and success for her debut children's book.
Nancy Gee on Author Marketing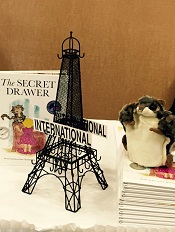 RT: Bonjour, Nancy! I recently saw on your Facebook page that you will be visiting France to promote your award-winning book The Secret Drawer. That must be really exciting.
Nancy: Yes, it's going to be Paris in the springtime! Even though my visit isn't until Spring 2016, I've been promoting the book signing on my Facebook page as a way of sharing that the book has gone international!
We have signed agreements with Germany, the United Kingdom, and now China, with more to come. We are doing extremely well internationally.
By the time we get to Paris, my second book The Secret Path will be released. I am very excited about the possibilities.
RT: You invest a lot of time in marketing The Secret Drawer, including creating online ads, a social media presence, events, and an extensive media kit that includes several videos. What has been the most valuable asset for you so far?
Nancy: Quite honestly, my personal passion. I am driven to make this book important to more and more children and families.
To expose this marvelous book I try any media form to get the word out to come share in the reading of The Secret Drawer.
RT: You also dedicate a lot of time to promoting your book with events at local youth organizations and schools, as well as bookstores. Events take a lot of work. Do you have a memorable moment that keeps you going?
Nancy:  I actually have several. Any author who writes rhyming books will tell you it is really hard work. I spent lots of additional writing hours trying to get it right. Every time I share the book with children, their reaction tells me that that extra time was worth it. On my Facebook page, I have a note from a young reader who wrote to compliment me on the rhymes. That made my day!
On another occasion, I was reading The Secret Drawer at a bookstore. A young girl asked if she could have my chair and pretend that she was the author. Of course I said yes! She sat in my chair, held up the copy of The Secret Drawer, and read to the audience. The girl was too young to read, but she was able to tell the story through the illustrations. That is when I knew I had accomplished my goal!
RT: The Secret Drawer includes a lot of factual information about flying squirrels. You've also incorporated them into your presentations. Can you tell us more about the Al and Sal puppets? How important are "character props" for children's authors?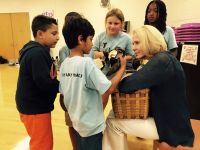 Nancy: The idea for puppets came from my daughter Ellen, who is the mother of my grandchildren. I thought it was a great suggestion, and I ran with it. After the book was published, I went on a hunt through nature centers to find flying squirrel puppets to use during my readings.
Now I am a distributor for them. Some people like to purchase the book and puppet, some just want the book. This way I can offer both options.
I use the puppets to animate the moment when Al jumps out of the secret drawer. They also engage children by tying a *real* flying squirrel to the story. After the reading I pass out the puppets so the children can touch and feel an animal they wouldn't otherwise be able to get close to. That connection also gives me an opportunity to teach them about what makes these creature so special.
RT: Thinking along the same lines, what would you suggest as the best place to start for authors just getting ready to launch their first book?
Nancy: First, authors have to understand that a publisher does not move your book for you. Your book is your journey. Books are a business. It is no different that my own business and I treat them both the same.
I dedicate part of every day on marketing my book. No exceptions. With every event and every reading, I am always learning. When it comes to marketing, I will try everything and then some.
When I release The Secret Path in January 2016, I will use what I've learned so far and keep pushing forward.
So what I would say to newly published authors: the book business is your business. Getting your book in the front row takes extreme amounts of time, dedication, patience, and drive (relentless). It is by no means an easy journey. It is a 24/7 career.
I would also recommend that authors not rush to self publish. Being published by an established company helps open many more doors.
RT: Thank you, Nancy for stopping by! Best of luck on your new book, The Secret Path.
Connect with Nancy Gee on Social
The Secret Drawer
written by Nancy Gee
illustrated by Raye Ann Saunoris
Ampersand, Inc., 2014
Based on a true story! When a painter leaves a door open on his way out of the house, a flying squirrel makes its way in. "Al" found its way into a bedroom and into a sock drawer. For two days, Odis, the family cat, refused to budge from the front of the dresser. He wasn't the only one. Al's pal Sal waited two long days outside for his friend to escape.