Ode to the Mother of Fiction Picture Books
Can I be honest? I'm still in a little bit of shock. I still pinch myself.
Fiction Picture Books Chair for the Children's and Young Adult Bloggers' Literary Awards.
Wow.
Cybils + Fiction Picture Books = MotherReader
I'll just put it out there – MotherReader (aka Pam Coughlan) is a rock star.  Oh, let me count the ways …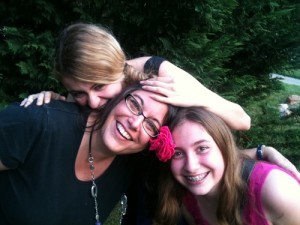 10. Pam is the mom of two girls. GIRLS ROCK.
9. She is a children's librarian. My dream job.
8. Pam taught me how to "blog" kidlit and do it right. Any failures of execution are completely my own.
7. I can always count on Festivus to make me feel better. You should try it.
6. She spearheaded Kidlitosphere Central, aka the the Society of Bloggers in Children's and Young Adult Literature. [Queue modified quote from The American President.]
Andrew Shephard – For the record: yes, I am a card-carrying member of the [Kidlitosphere]. But the more important question is why aren't you?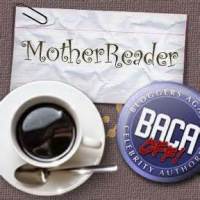 5. Pam founded BACA [Bloggers against Celebrity Authors]. How can you not love an organization whose slogan is BACA OFF!
4. She has a Tinkerbell Policy. Her post is not rated G, Wendy. It is still recommended reading.
3. MotherReader hosts the 48 Hour Book Challenge. Participating in the 48HBC is on my bucket list. *sigh*
2. You can always find Pam wearing the coolest scarf ever at events (like BEA 2015, below). It's the alphabet!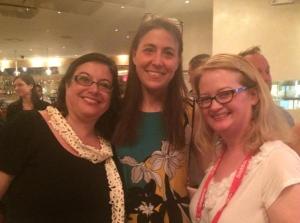 1. Mother Reader's About Me page says
Nobody finds the time to read — they make the time to read.
Amen, sistah!
The Fiction Picture Books Category = MotherReader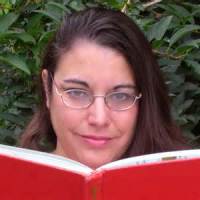 For me, MotherReader has been synonymous with the Fiction Picture Books Category since the Cybils launched 10 years ago. She was  a category judge in 2006. By the time I jumped into the Cybils as a panelist in 2008, she was in charge!
When I came on board as the chair of the Easy Reader / Short Chapter Book category, I was envious. It seemed that everyone was choosing Fiction Picture Books as their first choice AND they would have tons o' books to read. The rest of us? Not so much.
Now, trying to fit into those shoes and (presumably) wrangle an overwhelming mountain of nominations, envy has turned to O.M.G.
The rest of you can stop reading, the rest of this post is for MotherReader.
Pam,
I am humbled and honored that you asked me to follow in your footsteps.
Thank you for being my Fiction Picture Books Yoda!
~ Terry