Poetry Book Review: A Pizza the Size of the Sun by Jack Prelutsky
A Pizza the Size of the Sun by Jack Prelutsky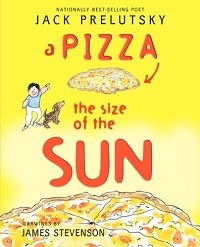 illustrated by James Stevenson
Publisher: Greenwillow Books, 2013
Material: paperback
Genre: Nonfiction – poetry, humor
Circles, triangles, short stanzas and long; words you're familiar with and some that are much too long (Fummawummalummazumms!).

More than 100 poems cover topics from food to pets to school and avoiding chores. There are all varieties of poems for young readers.
Interest level: 5 and Up. Recommended Ages
read together: 5 to 10;
read yourself: 9 and Up
Type of Reading: Family reading, independent reading, read aloud
Age of Child: Read with a 10-year-old girl.
Target Audience Reader: Our preteen is balking at reading, but still loves poetry. She likes being able to open the book to any page and decide what to read. The cool thing is that we get to hear all the poems that are hits because she'll stop reading, come find us, and suggest we "listen to this."
Parent Reader: We didn't rely solely on our 10-year-old in reading A Pizza the Size of the Sun. We are huge Jack Prelutsky fans. His poetry speaks with a voice that resonates with but also echoes his target audience.
Bottom line: Humor and great imagery will have everyone laughing. This is an exceptional choice for developing and struggling readers, as the rhymes help with word decoding practice. The variety of topics help illustrate that poems can be fun and celebrate any topic.
Our recommendation: Buy. This is a great book to share with young elementary students, and it will be a "comfort read" for them later when they need a laugh or a warm memory. Click these links to find the book at your local library or favorite bookstore. [Note: Link goes to an earlier edition.]
 If You Liked This Book, you might also like:

Educational Themes: Celebrate poetry with this collection of 100 poems for young readers. The variety of topics help illustrate that poems can be fun and celebrate any topic.
Notes:
1. The publisher donated a copy of this book knowing that we would consider it for review and provide an independent, unbiased profile. This book was given to a nonprofit to help readers in need.
2. This post contains affiliate links to Amazon.com. Purchases made through those links can result in earnings for the Reading Tub and its literacy mission.