Literacy + Life – Scribble Me This
Welcome to the third issue of Literacy + Life, our blog series that shares family literacy activities as a way to promote literacy.
So often when we hear the word "literacy" we think of the ability to read. Reading is part of the literacy galaxy – but a galaxy has many important parts. It may help to look at literacy as a way of communicating.
Through reading we promote literacy in "listening" mode;
When we write we promote literacy in "transmit" mode.
The cool thing about writing is that it takes many forms. Drawing counts, which means anyone, at any age, can practice their writing. One of the overlooked benefits is that when kids use a marker or crayon or pencil, they are developing their fine motor skills.
Promote Literacy with Paper Tablecloths
A very simple way to engage kids with the writing elements of literacy is to cover a table with drawing paper. It is super easy to do and very inexpensive.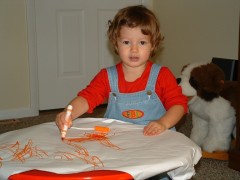 – Just having the paper there is an invitation to draw, doodle, or write.
– When you pick up a marker or crayon, you're modeling a skill they'll want to imitate.
– Scribbles invite questions – what's your picture about?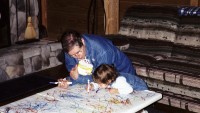 When my daughter was young, we would cover her play table and the coffee table with art paper. As a toddler, she had to ask us for her crayons, but when she got to preschool we would keep them in a basket on the "drawing table."
The great thing about these tables was that she could move about and it didn't matter what "side" she was on when she was ready to work.
We never covered the kitchen table, and I don't know why we didn't. If we had, I would have taped several layers of paper so that after we covered one with drawings (or spilled something), we would have another ready to go.
Family Literacy Activities at the Drawing Table
This idea works no matter the size of the table or the age of the person sitting there. Drawing or writing on your table mural doesn't have to be a solitary activity. Here are some ideas on ways to get everyone involved in your effort to promote literacy.
Let each person fill in the blank for "Draw a ________" Everyone at the table draws the requested object.
Play games. Tic Tac Toe and Hangman are two right off the top of my head.
Connect the drawings. [Think astronaut tethered to the spaceship.] Let each person draw their own "thing" and then work together to connect them.
Create a personal comic strip. Ask each person to draw (with or without words) a 3- or 5-panel story.
Supplies list for Tabletop Literacy
__ Art Paper, preferably oversized sheets or paper on a roll.
__ markers, crayons, pencils
__ tape (masking tape or painter's tape recommended)
Your Turn
Those are just a few ideas on ways to promote literacy and writing. I am sure you have many more – so please share them.

View blog post for supplies