Reading Tub Recommendations – Just in Time for Summer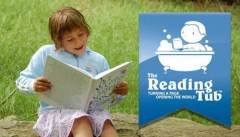 Things have been a wee bit quiet around The Reading Tub these past few months.
I *would* feel guilty, except that we have been reading up a storm and working on a H-U-G-E project. Now it is time to launch our project …
Reading Tub Recommendations!
RTR is a newsletter where subscribers tell us the age of their child and what kinds of books their child likes to hear/read and we send them a read-tested book recommendation.
It is more than just a newsletter, though. Reading Tub Recommendations is a guide for parents and caregivers trying to find that "it" book. The one that turns their struggling or resistant child into a reader and (maybe) a bookworm.
The right book for the right kid at the right time.
At its core, this is what Reading Tub Recommendations is all about.
It has taken us seven months to cull through the 2,500 reviews on the Reading Tub website to find the books (700!) we think will engage kids and their families. More importantly, we wanted to present books that are loved but may not be as well known.
Months before there was a #WeNeedDiverseBooks we were pulling out books that incorporated global ideas, characters, and stories.
We aren't the first people to offer a tailored newsletter, but we just may be the first to help readers find the book at their library and/or add it to their wishlist right from the email. Cool, right?

I could go on and on about RTR and our goal to bring literacy home for families. Instead, I'm going to invite you to learn more – and get a sneak peek – here.
Reading Tub Recommendations Launches Soon!
As a way of paying tribute to my Dad, who was the most voracious reader I know, we are going to launch Reading Tub Recommendations on Father's Day.
Subscribe today so that you can be part of the launch for Father's Day.
If you received our Literacy Lalapalooza newsletters, then you're all set. Existing subscribers will automatically receive Reading Tub Recommendations.