Reading with Kids – Let's Make Some Noise
There are lots of reasons that I love reading with kids. Sometimes I love a book for its story, but sometimes its for the words themselves. The way they "feel" in my mouth or when I say them out loud.
There are times when the illustration draws me in, and times when the wordplay makes me laugh out loud. 
Whatever the reason, the love of a book is meant to be shared.
We have created Book Recommendations as the place to go when you need to "feel" a book. These recommendations for reading with kids are all about the visceral (dare I say tactile) experience of reading.*
To kick off our new collection of reading with kids ideas, we have some books that are all about the sounds!
 Reading with Kids – Sounds Great!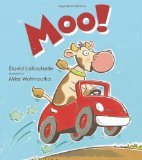 Moo!
by David LaRochelle; illustrated by Mike Wohnoutka
Walker Books for Young Readers, 2013
There is only one word in the book, can you guess what it is?
This is one of my new favorite books. It is destined to be one of my top recommendations for reading with kids. Because "moo" is the ONLY word in the book, the kids can make up whatever story they want to go with the illustrations.
More moos @ The Reading Tub
__________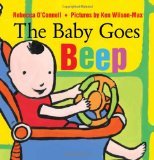 The Baby Goes Beep!
by Rebecca O'Connell; illustrated by
Ken Wilson-Max
Albert Whitman & Company, 2010
Beep! Flip! Splash! Kiss! Shhh!
Pick this one when reading with kids = squirmy toddlers. They will love the repetition of each action … and making the sounds that Baby does.
More Beeps @ The Reading Tub
__________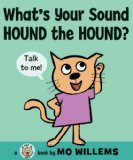 What's Your Sound Hound the Hound
written and illustrated by Mo Willems
Balzer + Bray, 2010
Cat the Cat wants to know what sound each of her friends makes, so she asks them.
There is a lot of alliteration (Chick the Chick, Cow the Cow). This is an easy reader, meant for word repetition, but it is a nice selection for reading with kids at various stages of readiness and gives young audiences a chance to "sound off."
more animal sounds @ the Reading Tub
__________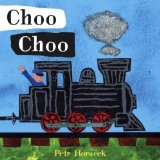 Choo Choo
written and illustrated by Petr Horacek
Candlewick, 2008
Is there a more classic word-sound for kids than choo choo?
This is a fun, fun read! The pages have shaped edges, which adds a nice dimension to all of the noises the train makes on its journey to the sea.
more train fun @ the Reading Tub
Your Turn
What are your favorite books with words that are sounds?
_____
*If you're looking for book lists built around the "things" kids love, be sure to visit We Are a Family of Readers, where you can search by audience, theme, and more.
This post contains affiliate links.