The Cambodian Dancer, a #ReadYourWorld Review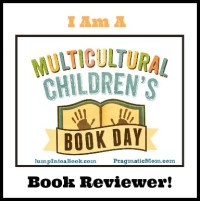 It's worth repeating: #ReadYourWorld is more than just a catchy hashtag. As readers, we inherently understand understand mirrors, windows, and doors. We travel through time and space; meet amazing and interesting people; and explore unreal places. It's what we do. It's what we love about books. Sharing what we read goes hand in hand with our love for enjoying a great book.
I am very excited to be part of Multicultural Children's Book Day 2016 and #ReadYourWorld. Not just as a reviewer, but as a reader who loves the exploring, adventure, and learning found in the stories I read.
When you visit the Multicultural Children's Book Day website and those of its 12 co-hosts (see links below) you'll discover children's literature that celebrates cultures, traditions, and personal stories from around the world. Please visit them and help celebrate this wonderful event not just this week, but every day.
Last week, Vietnamese Children's Favorite Stories, retold by Tran Thi Minh Phuoc. Today I'm reviewing The Cambodian Dancer by Daryn Reicherter. Both books are published by Tuttle Publishing, and the publisher provided review copies.
The Cambodian Dancer: Sophany's Gift of Hope
 written by Daryn Reicherter; illustrated by Christy Hale
Tuttle Publishing, 2015
When she was a girl Sophany learned the ancient ways of Cambodian dance.  She was an exceptional dancer who performed before royalty and taught dance to the next generation.  Dancing filled her heart.
When the Khmer Rouge outlawed dance and destroyed the ancient temple art, Sophany's world crumbled. Her world – and her heart – were full of shadows. She made her way first to Thailand and then to the United States. Yet she never forgot her homeland or the dance. Slowly, in bringing her culture to young Cambodian American girls, her heart was full again.
The Cambodian Dancer is poetic and lyrical. Together, word and illustration create an elegant biography. When you read the Author's Note in the back you are wowed again by the beauty and power of Sophany's story. As soon as I read that, I immediately read the book again.
In describing how Sophany learned, then taught, Khmer dance, Daryn Reicherter chose to use nearly identical text. That gives the story a poetic feel, and  also makes it a nice choice for developing readers. The illustrations create the passage of time perfectly, allowing the narrative to remain fresh, despite being repeated.
The imagery really excels in capturing emotions and conveying them to readers. In expressing the dark period perpetrated by the Khmer Rouge, Reicherter chose the term "shadow." Hale's use of intricate shadow puppets not only captures the emotion, but does it in a culturally aware / relevant way. Exquisite.
My one quibble with The Cambodian Dancer is that it left me with no place to go next. This is Sophany's story, but it is also a story of Cambodian culture and history. What other books would the author recommend?
#READMYWORLD
Before The Cambodian Dancer, I knew nothing about Cambodia or Cambodian culture. This is my introduction, and now I want to learn more. I am sure I'm not alone, so I did a little research to find children's and young adult books to add to my list.
Children of the River by Linda Crew
Sundara fled Cambodia with her aunt's family to escape the Khmer Rouge army when she was thirteen, leaving behind her parents, her brother and sister, and the boy she had loved since she was a child. Now, four years later, she struggles to fit in at her Oregon high school and to be "a good Cambodian girl" at home. 
A good Cambodian girl never dates; she waits for her family to arrange her marriage to a Cambodian boy. Yet Sundara and Jonathan, an extraordinary American boy, are powerfully drawn to each other. Haunted by grief for her lost family and for the life left behind, Sundara longs to be with him. At the same time she wonders, Are her hopes for happiness and new life in America disloyal to her past and her people?
 A Path of Stars by Anne Sibley O'Brien
Dara loves the stories her grandmother, Lok Yeay, tells of the Cambodian countryside where she grew up – stories of family, food and the stars above, glowing in the warm, sweet air. There are darker stories too – stories of war and loss that Lok Yeay cannot put into words. Lok Yeay yearns to return to Cambodia to be with her brother. But when that dream becomes impossible, it's up to Dara to bring Lok Yeay back to a place of happiness.
As part of a personal commitment to reading my world, I created a special shelf on GoodReads. I have already added these two books, and I expect to add many more as I visit the Multicultural Children's Book Day co-host blogs and discover other books readers are Tweeting about. I'll be looking for #ReadYourWorld for additional recommendations.
[Summaries are from Goodreads. Covers link to Amazon.com.]
About #ReadYourWorld and Multicultural Children's Book Day
Our mission is to not only raise awareness for the kid's books that celebrate diversity, but to get more of these of books into classrooms and libraries.
Mia Wenjen (Pragmatic Mom) and Valarie Budayr (Jump Into a Book and Audrey Press) are the co-creators of this event. This year, 12 co-hosts "will also house the wildly-popular book review/blog post link-up the week of the event."
Multicultural Children's Book Day / #ReadYourWorld 2016 is made possible with the help of the following sponsors.
Medallion Level Sponsors!
Platinum: Wisdom Tales Press * StoryQuest Books * Lil Libros
Gold: Author Tori Nighthawk * Candlewick Press * Bharat Babies
Silver: Lee and Low Books * Chronicle Books * Capstone Young Readers * Tuttle Publishing * NY Media Works, LLC/KidLit TV
Bronze: Pomelo Books * Author Jacqueline Woodson * Papa Lemon Books * Goosebottom Books * Author Gleeson Rebello * ShoutMouse Press * Author Mahvash Shahegh * China Institute.org * Live Oak Media